Nabil Fahmy, former Egyptian Ambassador to US named FM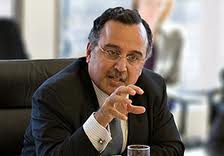 Ambassador at Large at the Egyptian Foreign Ministry and former Egyptian Ambassador to the United States Nabil Fahmy, accepted the post of foreign minister on Sunday in the interim government being formed after the removal of president Mohamed Mursi earlier this month.
Interim Prime Minister Hazem el-Beblawi is forming a government expected to be made up mainly of technocrats and liberals to lead Egypt under an army-backed "road map" .
Before returning to Cairo in fall 2008, Fahmy served for nine years as the Egyptian Ambassador to the United States. Prior to his posting in Washington, he served as Egypt's Ambassador to Japan from September 1997-September 1999 and before that as the Political Advisor to Egypt's Foreign Minister from 1992-97.
Fahmy is the founding Dean of the School of Public Affairs at the American University in Cairo. He is also the Chair of the James Martin Center for Nonproliferation Studies' Middle East Project.
The new government could be unveiled by Tuesday or Wednesday. Their top priorities would be to restore security, ensure the flow of goods and services and prepare for parliamentary and presidential elections, AFP reported.
Talks over the new cabinet come as prosecutors looked at criminal complaints against Mursi and members of his Muslim Brotherhood, which he hails from.
Egypt's public prosecutor office said it had received complaints accusing Mursi and members of the Muslim Brotherhood of spying, inciting the killings of protesters and damaging the economy.