ElBaradei sworn in as Egypt's new Vice President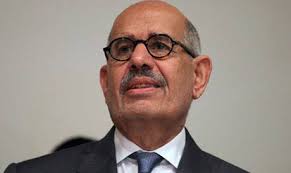 Prominent liberal Egyptian leader Mohamed ElBaradei was sworn in on Sunday as Egypt's interim vice president for foreign relations, AFP reported the presidency as saying in a statement.
ElBaradei, a former head of the U.N. nuclear watchdog and a Nobel peace laureate, was initially tipped to lead the cabinet, but his nomination was rejected by the ultra-conservative Salafist party Al-Nour.
He is also the head of the National Salvation Front, a coalition of leftist and liberal groups, formed in the wake of a power grab by ousted President Mohammed Mursi in November.
Talks were held between Egypt's new Prime Minister Hazem el-Beblawi and candidates for ministerial posts on Sunday to form an interim government after the removal of Mursi earlier this month.
Meanwhile, Nabil Fahmy, a former Egyptian ambassador to the United States, accepted the post of foreign minister on Sunday in the interim government.
Beblawi is assembling a government expected to be made up mainly of technocrats and liberals to lead Egypt under an army-backed "road map" to restore full civilian rule.
New govt unveiled on Tuesday
The new government could be unveiled by Tuesday or Wednesday. Their top priorities would be to restore security, ensure the flow of goods and services and prepare for parliamentary and presidential elections, AFP reported.
Leftist politician Godah Abdel Khalek told Reuters on Sunday that he declined an offer to serve as minister of supply in Egypt's interim government because of personal reasons.
Previously, sources in the transitional administration had said Beblawi would ask Abdel Khalek to return to his post, which had had held for a few months in 2011.
"I was offered the post by Beblawi, but I declined for personal reasons," he told Reuters.
Talks over the new cabinet come as prosecutors looked at criminal complaints against Mursi and members of his Muslim Brotherhood, which he hails from.
Egypt's public prosecutor office said it had received complaints accusing Mursi and members of the Muslim Brotherhood of spying, inciting the killings of protesters and damaging the economy.
Al Arabiya's Cairo correspondent reported that the prosecutor's office said it was investigating the complaints to allow those accused to be questioned.
Egypt's legal system allows prosecutors to investigate complaints made by the police or by any member of the public. It can take days or months for formal charges to appear. Prosecutors rarely issue statements based on complaints before charges are filed.
Al Arabiya