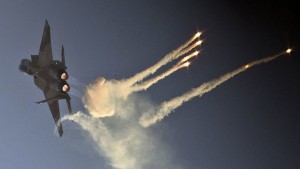 Israeli warplanes conducted an airstrike on July 5 in the northern Syrian port city of Latakia, a U.S. official said, confirming a report.
The attack is believed to be the fourth Israeli airstrike conducted in Syria this year targeting shipments of advanced Russian weapons that Syria is providing to Hezbollah in Lebanon.
There had been conflicting reports as to who may have been responsible for a series of large blasts that occurred in the early morning hours at a Syrian naval base in Latakia last Friday.
Initially, there were reports that Syrian rebels said they were responsible for the attack that resulted in the explosions, but later a rebel spokesman claimed that Israeli fighter jets were behind the attack. That same spokesman claimed that rebel forces believed the base housed advanced Yakhont long-range anti-ship missiles.
CNN was first to report Friday that U.S. officials believe that Israel was behind the attack, which the network said was targeting the anti-ship missiles bound for Hezbollah in Lebanon.
A U.S. official told ABC News that it was unclear what kinds of weapons Israel may have been targeting in the July 5 airstrike.
Israeli officials have consistently declined to comment on previous reports this year that they have been responsible for airstrikes inside Syria.
The three previous covert Israeli air strikes that have taken place in Syria this year, confirmed afterwards by U.S. officials, all targeted Russian weapons systems that Syria was believed to be funneling to Hezbollah in Lebanon. Syria has been a long-time arms provider to the militant Lebanese organization.
The first strike near Damascus in late January targeted a convoy carrying anti-aircraft missiles that may have been on the move to Hezbollah.
In early May, Israel conducted two separate airstrikes, also near Damascus, that a U.S. official told ABC News targeted as many as a dozen medium range Fateh-110 missiles intended for Hezbollah.
Problematic
"Israel can attack many targets in Syria, but according to foreign reports it chooses quality targets, such as the Fateh-110 missile, as well as the SA-17 and Yakhont missiles, which can fall into the hands of extremist elements," former Israeli National Security Council chief Maj.-Gen. Giora Eiland was quoted as saying on Sunday by ynetnews describing the US leaks on attacks in Syria problematic.
However Eiland warned that "there can always be one Israeli attack too many, and then Assad will respond and we will have to ask ourselves difficult questions. The American leaks (regarding alleged Israeli operations in Syria) are problematic and concerning, although Israeli officials also do such things on occasion."The report by ynetnews added
ABC
This error message is only visible to WordPress admins
Error: No connected account.
Please go to the Instagram Feed settings page to connect an account.