Sex for visas scandal at US embassy in Guyana, report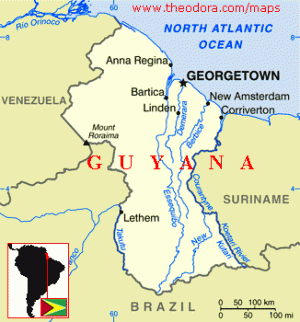 A US State Department officer has been accused of selling visas for sex and money in what may have been a massive human trafficking operation, The Daily Caller has learned.
The US State Department acknowledged last week that one of its officials is the target of a probe over "allegations of improprieties relating to a Consular Officer formerly assigned to Georgetown, Guyana" without providing further details. Local media are also claiming the official, who was recently withdrawn from normal duties pending completion of an official investigation, associated with drug lords as part of his visa scam.
The scandal began when executives and tourists complained that their visa applications were being held up, and local media began reporting that a visa official was demanding bribes and sex in exchange for visas.
The Daily Caller has identified the suspect as Edy Zohar Rodrigues Duran, formerly of Mission, Texas, and currently living in Falls Church, Va.
Duran was removed from his post at the Guyanese capital of Georgetown in June of this year, months short of his scheduled September 2013 departure date, according to Mark A. Benschop and Julia Johnson, two Guyanese journalists who spoke with TheDC from Guyana.
It is unclear whether Duran has been fired or placed on administrative leave within the State Department, but according to a dating profile he created on June 23, 2013, he is looking for work in Falls Church.
The investigations began in February. Duran left Georgetown about three weeks ago.
Duran has been "accused of selling visas to many corrupt businessmen [and] drug dealers … for as low as US$15,000," according to a news report in the Guyana Observer News. "The Feds have not stumbled on concrete evidence on the issue of money for visas, but sufficient evidence on the sex for visas."
Agence France Presse also reported last week that the embassy was "investigating allegations that a consular officer who worked at the post was selling visas for thousands of dollars."
AFP quoted a Guyanese official saying Duran "had negotiated to sell visas for as much as $40,000, using a popular restaurant and bar in Georgetown, the capital of this former British colony, to seal the deals." According to AFP, Duran also travelled to neighboring Suriname, a frequent stop for Chinese migrants on the way to the United States.
"The embassy wanted a hush-hush on this whole affair," says Benschop, radio host and publisher of the Guyana Observer. Duran was "demoted from the marriage and visa section and placed in a warehouse far away from the embassy. His tour of duty would have come to an end in September. All of these things caused eyebrows to be raised."
Daily caller