Israel jails an Arab citizen who briefly joined Syria's rebels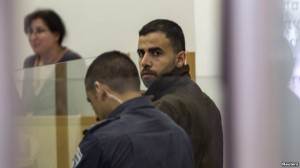 Israel sentenced an Arab citizen to 30 months' imprisonment on Monday for endangering national security by briefly joining Syrian rebels fighting to topple President Bashar al-Assad.
Hikmat Massarwa's case was unprecedented, and the relatively light penalty handed down to him as part of a plea bargain reflected Israel's indecision about who – if anyone – to back in its northern neighbor's civil war.
Massarwa was arrested on March 19 upon returning via Turkey from Syria, where he had spent a week at a rebel base. Israeli prosecutors accused him of undergoing small-arms training by radical Islamists there who asked him to carry out a suicide attack in Israel – although, by all accounts, he declined.
Those charges carried a maximum 15-year jail term. But prosecutors appeared unable, from the outset, to throw the book at Massarwa because of Israeli haziness about the Syria crisis.
"There's no legal guidance regarding the rebel groups fighting in Syria," Judge Avraham Yaakov said at a session of the trial at Lod district court, south of Tel Aviv, in May.
Massarwa, a 29-year-old baker, at first denied wrongdoing, saying he had gone to Syria to seek a brother missing since joining the insurgency. He also argued that the Western-backed anti-Assad rebels should not be regarded as a danger to Israel.
But, changing tack on Monday, Massarwa confessed to unlawfully travelling to a hostile state and meeting what prosecutors designated a "foreign agent". In turn, they dropped the count against him of illicitly receiving military training.
Under the plea bargain, Massarwa acknowledged his actions "had potential to threaten the security of the state of Israel".
Technically at war with Syria, Israel enjoyed decades of stable ceasefire while the Assad family ruled unchallenged in Syria. It fears that, if Damascus falls to the Islamist-dominated rebels, jihadis among them will have a Syrian springboard for striking at the Jewish state.
Such concern has been stoked in recent months by Syrian gunfire and shelling into the Israeli-occupied Golan Heights, incidents in which Israel has routinely shot back. Israel took the Golan from Syria in the 1967 Middle East war.
Arabs, most of them Muslim, make up around 20 percent of Israel's population. They seldom take up arms with its enemies.
Yet some Israeli officials privately described Massarwa's trial as a bid to deter other Arab citizens from going to Syria and possibly acquiring the Islamist agenda and fighting savvy that could drive them to turn to violence once back home.
"The prosecution were definitely looking for a deterrent effect here, and they got it, even though they scaled down the penalty," Massarwa's lawyer, Helal Jaber, told Reuters.
But he added that Israeli Arab volunteerism for the Syrian civil war was "hardly a phenomenon. We are talking about two or three people – bad apples. The overwhelming majority of the community are loyal to the state of Israel".
Reuters
Photo: Hikmat Massarwa (R), a member of Israel's Arab minority, attends a remand hearing at the Central District Court in Lod, near Tel Aviv Apr. 25, 2013.