Battles intensify in Syria's strategic city of Homs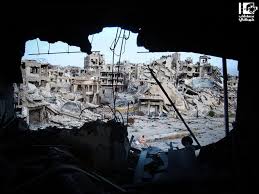 Syrian forces fought with rebel groups in the central city of Homs on Monday in a battle seen as crucial to the government's attempts to divide rebels and carve out links between the capital and President Bashar al-Assad's coastal strongholds.
Assad's forces have been on the offensive in Homs for ten days, hitting neighbourhoods over-run by rebels in central parts of the city with air strikes, mortar bombs and tanks.
Rebels control much of northern Syria but have been on the back foot against Assad's army since it retook Qusair last month, a town in Homs province and near the border with Lebanon, where victory marked a change in the government's fortunes.
The newly elected head of the opposition Syrian National Coalition told Reuters that the rebel's military position was weak and proposed a truce for the Muslim holy month of Ramadan, which begins on Tuesday, to stop fighting in Homs.
There was no sign that the government in Damascus, with its forces now grinding out advances following setbacks earlier in the war, was ready to accept such a ceasefire.
"We are staring at a real humanitarian disaster in Homs," said Ahmad Jarba, who was elected on Saturday.
He said he expected advanced weapons supplied by Saudi Arabia, the main opposition backer, to reach rebel fighters soon and strengthen their position on the ground.
The Syrian National Coalition, a largely exile group, has little influence on rebel units on the ground in Syria. That could change if it succeeds in facilitating the supply of sophisticated weapons to the opposition, whose fighters say they need shoulder-launched missiles to take on Assad's air force.
Syria's two-year revolt began as peaceful protests but, under a fierce security force crackdown, degenerated into civil war. The conflict has killed more than 100,000 people, the Syrian Observatory for Human Rights, a British-based monitoring group, says.
Homs, 140 km (90 miles) north of Damascus, is situated at a strategic crossing linking the capital with army bases in coastal regions controlled by Assad's Alawite sect, an offshoot of Shi'ite Islam that has dominated majority Sunni Syria since the 1960s.
Assad is trying to cement control of this belt of territory, a move which could sever the north and south of the country, areas where rebels have a foothold.
The United States and Sunni Gulf countries say they are backing the opposition but Assad has made significant gains in recent months with military and financial support from Russia and Shi'ite Iran.
Fighters from Lebanon's Shi'ite militant group Hezbollah have also played a significant role in helping Assad recapture border towns from Sunni rebels.
CONSTANT BOMBARDMENT
The Syrian state news agency SANA quoted a military source as saying that the army had killed "terrorists" – a word state media uses for insurgents – in several areas of Homs on Monday, including the Old City district of Bab Hood and some satellite towns around the country's third largest city.
The Observatory said that Bab Hood and the al-Safsafa district were being hit with heavy artillery, mortar bombs and tank fire, resulting in several injuries.
"Violent clashes took place on Monday morning between rebels and army forces," the Observatory said in an email. It did not give casualty figures, which are hard to confirm due to media and security restrictions.
A local physician working in Homs with displaced families said she had heard constant bombardment over the past few days.
"What can we say? We've gotten so used to it we don't even want to think about it. God protects us," she said over the phone on condition of anonymity from the central neighbourhood on Inshaat.
Video uploaded by an activist group in Homs showed smoke billowing from damaged buildings and the near-constant echo of gunfire and explosions ringing through the narrow streets.
The 13th-century Khalid ibn al-Walid mosque, a prominent central landmark, could be seen in the footage. Like many of Syria's historical treasures, the mosque, with its silver-coloured domes, has been badly damaged.
The United Nations has expressed alarm at conditions in Homs, Syria's third largest city, saying last week that between 2,500 and 4,000 civilians were trapped there amid shortages of food, water, medicine, electricity and fuel.
Homs city was the epicentre of protests at the start of the revolt and the armed insurgency. Many districts have fallen in and out of government control during the past two years.
Reuters