Strong earthquake hits western Indonesia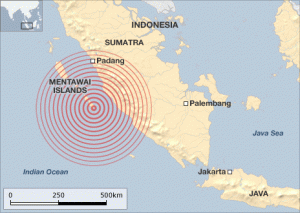 A powerful earthquake with a magnitude of 6.4 on Saturday struck off Mentawai islands in western Indonesia, causing panic but officials said there were no reports of damages or casualties.
The U.S. Geological Survey said the earthquake was centered 121 miles west-northwest of Bengkulu on Sumatra island, at a depth of 14 miles.
Hardimansyah Maitam, a local maritime patrol officer, said residents in Sikakap town on North Pagai, an island in the Mentawai chain, poured into the streets and ran to higher ground as the quake struck.
Muhammad Ramdan of Indonesia's Meteorology and Geophysics Agency said the quake which was felt in some cities on Sumatra did not have the potential to trigger a tsunami.
Indonesia is prone to seismic upheavals due to its location on the Pacific "Ring of Fire," an arc of volcanoes and fault lines encircling the Pacific Basin.
Saturday's quake happened four days after a magnitude-6.1 tremor killed at least 35 people and damaged more than 4,300 houses and buildings in Aceh province.
A magnitude-9.1 earthquake off Aceh in 2004 triggered a tsunami, killing 230,000 people in 14 countries.