Retrial of Egypt's Mubarak adjourned to August 17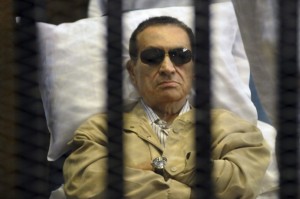 The slow-motion retrial of former Egyptian autocrat Hosni Mubarak dragged on at snail's pace on Saturday, impervious to the latest upheaval in the country he ruled for 30 years – the military overthrow of his elected successor.
The presiding judge adjourned the case on charges of conspiracy to murder hundreds of demonstrators in 2011 until August 17, after the Muslim fasting month of Ramadan, to allow the defense more time to review recently presented evidence.
The televised trial of the 85-year-old former president, toppled by a popular uprising in 2011, seemed outwardly unaffected by the ouster the country's first elected president, Islamist Mohamed Mursi, on Wednesday after mass protests.
Outside the courthouse, however, supporters of Mubarak sang and danced around a bronze bust of Mubarak on a wooden pedestal in celebration of Mursi's fall, a Reuters witness said.
The families of victims who have crowded the area at all previous hearings were absent.
Presiding judge Mahmoud Kamel el-Rashidi promised to keep broadcasting the proceedings live on state television, even though military sources have said that armed forces commanders were unhappy to see the former head of state and air force chief paraded in a glass and wire courtroom cage.
"I will not stop the live broadcast (of hearings) under any circumstances. The people must know what goes on in this case," the judge said.
Frowning from the enclosed dock, Mubarak sat in a wheelchair in his trademark aviator glasses, his chin resting on his hands, flanked by his sons Alaa and Gamal, who are also on trial for alleged financial misdemeanors.
A lawyer who said he represented all the defendants in the trial, including former Interior Minister Habib el-Adly, asked the court to allow the defense teams more time to review new evidence that was submitted in a hearing on June 10.
"We are requesting a wider time frame, until after the month of Ramadan, because the period will not be enough to look at all these documents during Ramadan," he said.
Pro-democracy activists and representatives of the victims have accused Mubarak's defense team and judges appointed under his rule of dragging out the case to avoid a verdict.
After an appeals court overturned his conviction and sentence to life imprisonment last year, a first attempt at a retrial was aborted in April when a widely criticized Mubarak-era judge recused himself, moving the case to another court.
Reuters