Britain increases military aid to Lebanon, to protect border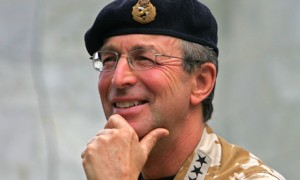 Britain will send more support for the Lebanese military, to help protect the country's border with Syria.
Chief of the Defence Staff General Sir David Richards announced the package – which is still subject to parliamentary approval – today during a visit to the country.
The aid will include transport, communications, protection and surveillance equipment, as well as relevant training.
Gen Richards said: "Since 2010 the UK has more than doubled assistance to the Lebanese armed forces and I am pleased to take this opportunity to reiterate the UK's commitment to Lebanon's stability, democracy and sovereignty.
"I have great respect for the professionalism and leadership of the Lebanese armed forces, who are playing a critical role in preserving the country's hard-won peace in the face of the challenges presented by the conflict in Syria."
It is not expected that there will be a vote by MPs on the support package. A minute setting out the details was laid in Parliament by the Foreign Office on June 27 and MPs have 14 sitting days in which to lodge an objection.
Britain already supports the Lebanese armed forces through the provision of a military training facility at Hamat and a number of recently constructed border observation towers.
The latest move comes amid fears that the conflict in Syria could spill over into Lebanon. The country's civil war, now in its third year, is thought to have killed more than 90,000 and displaced more than one million. It is fought between forces loyal to President Assad and rebels, mostly from the disparate Free Syrian Army.
The conflict has spilled periodically across Syria's borders with Lebanon, Iraq and Turkey, threatening to engulf the region.
Tensions in the country are running high with dozens of people reportedly killed in sectarian clashes between Shia and Sunni Muslims.
The stakes have been raised with the intervention of the Shia Hezbollah militia in Syria on the pro-government side, fuelling anger among Lebanon's Sunnis. Hezbollah fighters were reportedly instrumental in the fall of the formerly rebel-held city of Qusayr, which tipped the balance of the conflict in Assad's favour.
The Independent