Death toll in Cairo University clash rises to 16 , report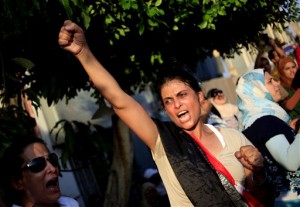 The death toll in violence involving Islamist supporters of Egyptian President Mohamed Mursi near Cairo University rose to 16 on Wednesday and 200 people were wounded, state television quoted a Health Ministry spokesman as saying.
Security sources said pro-Mursi demonstrators clashed with security forces. Witnesses said they heard shotgun and rifle fire.
Clashes erupted in the area hours before Mursi's Tuesday night televised address, in which he defied calls to step down, citing his democratic legitimacy.
Reuters
Phot: An opponent of Egypt's Islamist President Mohammed Mursi chants slogans during a protest outside the presidential palace, in Cairo, Egypt, Tuesday, July 2, 2013. Egypt was on edge Tuesday following a "last-chance" ultimatum the military issued to Mohammed Mursi, giving the president and the opposition 48 hours to resolve the crisis in the country or have the army step in with its own plan. (AP Photo/Khalil Hamra)