Sunni Cleric: Judiciary, army are subservient to Iran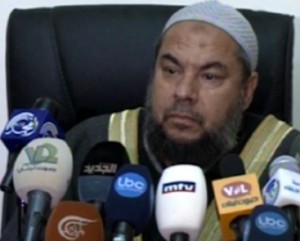 Lebanon's Tripoli Sunni Sheikh Salem al-Rafei accused the Lebanese Armed Forces and the country's judiciary of being an accomplice of Hezbollah and the Iranian project.
"The judiciary and army are subservient to the Iranian project. The orders come from Iran, are received by the judiciary and then the warrants are issued against Sunni youths," Rafei said following a meeting for Dar al-Fatwa Ulemas of Tripoli.
He also said that the army is conspiring with Hezbollah in killing youths, asking "what kind of institution that respects itself allows Hezbollah's militias to fight our youth?"
Rafei added: "We are upset about what happened on Monday and we reject it."
"Our youths called for a peaceful protest and all of a sudden some armed men affiliated with security agencies began roaming Tripoli's streets and shooting to show that Tripoli is not secure because it has stood by the Syrian revolution and refused the Iranian project," the Sunni sheikh continued.
He also voiced his rejection of violence, stressing: "We are innocent of what happened yesterday."
"We feel that Sunnis are marginalized. A lot of its members are put in jails without trial", he added
On Monday, a number of armed young men began roaming the streets of Tripoli and shooting in the air following the arrest of local Ghali Haddara after appearing in a video with Sunni Sheikh Ahmad al-Assir's supporter, retired singer, Fadel Shaker.
Explosions, gunfire, and stun grenades were heard in different areas of the northern city and several of its roads were blocked with garbage bins, cars, and burning tires.
NOW