ElBaradei picked to negotiate Egypt future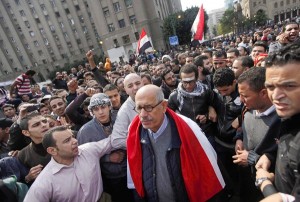 Egyptian opposition groups chose leading dissident Mohamed ElBaradei to represent them in negotiations on the country's future, after the army said it would intervene with a roadmap if political forces do not resolve the crisis by Wednesday.
The June 30 Front, which includes various groups including Tamarod – a grassroots campaign behind Sunday's record protests against Islamist President Mohamed Morsi – said it had delegated ElBaradei "to be the voice" of the opposition.
The Front "entrusts ElBaradei with the responsibility to ensure the execution of the Egyptian people's demands and to draft a scenario that aims at the complete implementation of the roadmap for the political transition," it said in an English-language statement.
AFP
Nobel peace laureate Mohamed El-Baradei, center, wears an Egyptian flag draped on his shoulders as he is surrounded by protesters during his arrival for Friday prayers in Tahrir Square in Cairo, Egypt, Friday, Nov. 25, 2011. Egyptian opposition groups chose ElBaradei to represent them in negotiations on the country's future, after the army said it would intervene with a roadmap if political forces do not resolve the crisis by Wednesday.(AP Photo/Khalil Hamra)]