US accuses Hezbollah of putting Lebanon at risk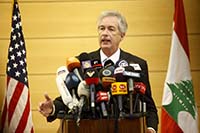 A senior American official on Monday denounced Hezbollah for its involvement in Syria's civil war and said the Lebanese militant group's actions place the future of Lebanon at risk.
The comments from Deputy Secretary of State William Burns were the first by a high-ranking visiting U.S. official since Hezbollah helped propel President Bashar Assad's troops to victory in the strategic Syrian town of Qusair near the Lebanese border last month.
Syrian troops have been building on the victory to move against rebel-held areas elsewhere in the central province of Homs and in the country's north.
"Despite its membership in the Lebanese government, Hezbollah has decided to put its own interests and those of its foreign backers above those of the Lebanese people," Burns told reporters as he wrapped up a two-day visit to Lebanon.
He added that the U.S. condemned "in the strongest terms" Hezbollah's actions in Syria and said they "place the future of Lebanon at risk."
Fighters from the powerful Iranian-backed Shiite Lebanese party have joined Assad's forces in their battle to crush the anti-Assad rebellion, which is dominated by Sunnis. The group was instrumental in helping Assad's troops capture Qusair, and activists say Hezbollah members are fighting in several locations in Syria.
Assad, however, refuted those reports, saying in a recent interview that Hezbollah's involvement was restricted to Qusair because of its proximity to Lebanon.
The group's open participation in the war has helped fan sectarian hatreds in Lebanon and across the region.
Lebanon is grappling with rising tensions between Sunni and Shiite Muslims linked to the more than 2-year-old conflict in Syria, which has sparked deadly street fighting on several occasions in Lebanese cities between the rival sects.
Last week, sectarian tensions drew Lebanon's weak army into the fray. Eighteen soldiers were killed in two days of fighting in the southern city of Sidon between the army and supporters of a hard-line Sunni sheik whose popularity has soared by tapping into the frustrations of many Lebanese who resent the influence Shiites have gained in government via Hezbollah.
"At a time of regional tumult and domestic uncertainty, it is deeply in the self interest of all Lebanese to exercise restraint and respect for Lebanon's stability and security," Burns said.
Burns also criticized a Lebanese government decision to postpone scheduled parliament elections last month, saying it undermines the faith of the Lebanese people in their own government and shakes the confidence of the international community in the country's institutions.
Washington Post/ AP