Parliament meeting canceled due to lack of quorum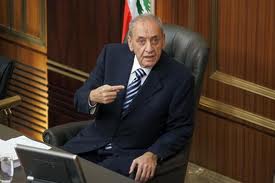 Lebanon Speaker Nabih Berri adjourned today's parliament session due to lack of quorum after most blocs boycotted it and postoponed it until July 15, 16 and 17 , but kept the same controversial agenda.
National News Agency reported that Caretaker Prime Minister Najib Mikati met with Berri earlier in the day, after which the premier said in a press conference that the scheduled parlaiment session was unconstitutional since it is supposed to tackle only urgent issues and not 45 items as per the agenda set by the speaker.
Speaker Berri also heads up the Amal Movement.
Only Hezbollah, Amal and National Struggle front Bloc MPs arrived to to attend the session the rest boycotted it including MP Michel Aoun's FPM MPs.
Aoun did not want to attend because he is opposed to the extension of the term of army chief General Jean Kahwaji , which is the only urgent item on the agenda , while all the other blocs boycotted the session because they only wanted to discuss the extension of Kahwaji's term .
Aoun proposed yesterday appointing his son-in-law General Chamel Roukoz who is currently the commander of Lebanese Commando Regiment ( Maghaweer) as then new army chief.
Amal MP Ali Hassan Khalil who was one of the MP s that arrived to attend the parlaiment meeting criticized caretaker Prime Minister Najib Mikati for opposing Monday's session.
"Everyone, whether they agree or disagree with us, knows that we are a group that paid with blood the price of the country's sovereignty and its independence." Khalil said .
Future Movemnet MP Ahmad Fatfat on the other slammed Berri for not being impartial and for insisting on having 45 items on the agenda.
"He is the leader of the March 8 group and he is backing [Hezbollah's] weapons." Fatfat said.
"What happened today is a show of respect toward the constitution and not to the speaker. We want a session that is held according to the constitution."
March 14 blocs are reportedly isisting on having a new cabinet before a parlaiment session is held to discuss items that are not urgent.
PM Designate Tammam Salam has been trying to form a cabinet of 24 ministers ( 8 each for the centrists, March 14 and March 8 blocs) for several months but the Hezbollah-led March 8 group is insisting on having a veto power in the cabinet and is demanding 9 seats instead. For this reason the country remains without a cabinet.