19 firefighters killed battling Arizona wildfire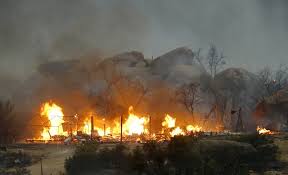 Gusty, hot winds blew an Arizona blaze out of control Sunday in a forest northwest of Phoenix, overtaking and killing 19 members of an elite fire crew in the deadliest wildfire involving firefighters in the U.S. in decades.
The "hotshot" firefighters were forced to deploy their emergency fire shelters — tent-like structures meant to shield firefighters from flames and heat — when they were caught near the central Arizona town of Yarnell, state forestry spokesperson Art Morrison told The Associated Press.
The fire also destroyed an estimated 200 homes, Morrison said. Dry grass near the communities of Yarnell and Glen Isla fed the fast-moving blaze, which was whipped up by wind and raced through the homes, he said.
CBS Phoenix, Ariz. Affiliate KPHO-TV reports at least eight firefighters suffered injuries and were a local hospital. The extent of their injuries wasn't known.