Bahrain urges Iran to help get Hezbollah out of Syria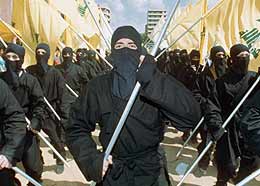 Bahrain's foreign minister on Sunday urged Iran's newly elected president to seek the withdrawal of Tehran-backed Hezbollah fighters from Syria as a gesture to try to ease the civil war there.
The appeal by Sheik Khalid bin Ahmed Al Khalifa, during meetings between the European Union and Gulf Arab foreign ministers, showed the widening shadow of Syria's 27-month conflict that has spilled across borders, involving Lebanon, Jordan and Turkey in varying degrees.
Bahrain and other Arab states have been highly critical of the intervention by Lebanon-based Hezbollah on behalf of the regime of Syria's President Bashar Assad, who is Iran's main regional ally. Bahrain has outlawed contact with Hezbollah, which it claims aids fellow Shiite groups in an Arab Spring-inspired uprising against the Sunni monarchy in Bahrain. More than 60 people have died in Bahrain's unrest since February 2011.
"The situation is critical in Syria, and we hope that Iran takes a serious steps to withdraw the foreign troops in Syria, specifically Hezbollah and other militias," Sheik Khalid told reporters at the gathering in the Gulf nation's capital, Manama. He welcomed the election of Hasan Rouhani as president of Iran and hope it could "open a new page" in Tehran's relations with the region.
Iran's president, however, has little sway over major policymaking, such as strategies in Syria or relations with Hezbollah. All Iran's key decisions rest with the ruling clerics and the powerful Revolutionary Guard.
Bahrain's Gulf partners, led by Qatar and Saudi Arabia, also have urged for stepped up weapons shipments to Syrian rebels, whose fight has drawn in some guerrillas from across the Muslim world. However, the emergence of Al-Qaida-linked groups such as Jabhat al-Nusra, or the Nusra Front, has fuelled Western reluctance to supply heavy weapons to the opposition.
Participants in the meeting in Bahrain also expressed worry that political tensions in Egypt could spill out of control, as protesters opposing President Mohammed Morsi vowed to remain on the streets until he is pushed from power.
The European Union's foreign policy chief Catherine Ashton, who led the EU envoys in Bahrain, told The Associated Press that "all are watching with concern" the unfolding protests in Egypt. She said she met last week with Morsi and members of the opposition in efforts to ease tensions.
"We encourage a dialogue to understand the current issues," she said.
Ashton faces pressure from rights groups to publicly criticize Gulf leaders for crackdowns around the region including widespread arrests for social media posts deemed insulting to rulers or raising questions about the scope of their power.
On Sunday, Human Rights Watch urged Ashton and the EU to complain to Gulf leaders about the sentencing a week ago of seven critics in Saudi Arabia to prison terms of five to 10 years, mostly for Facebook posts. The sentences have not been published officially in Saudi Arabia.
A joint statement by Bahrain's opposition urged the EU to press the Gulf nation's leaders to free political prisoners and expand efforts for a political solution to the unrest. Talks since last year have failed to make headway in the strategic island kingdom, which is home to the U.S. Navy's 5th Fleet.
Washington Post/ AP