Kerry diplomacy ends with no breakthrough, officials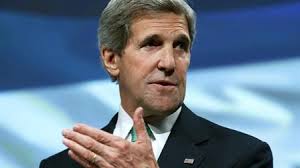 Secretary of State John Kerry ended four days of shuttle diplomacy Sunday without achieving a breakthrough in the stalled Palestinian-Israeli peace process, according to Palestinian officials.
But Kerry, who kept silent about the talks during his current trip, said in Ramallah after meeting Palestinian Authority President Mahmoud Abbas that "we have made real progress, but we have a few things we need to work on."
He said he has had "very positive, very important discussions" in the past few days.
Chief Palestinian negotiator Saeb Erekat also described the latest Abbas-Kerry meeting as "positive," but said in Ramallah that the secretary of state was nevertheless unable to achieve a breakthrough or even bridge the gap between Palestinians and Israelis.
He said some Kerry aides will stay behind and continue talks with both sides.
Kerry held three rounds of talks with both Israeli Prime Minister Benjamin Netanyahu and Abbas since he arrived in the area Thursday, his fifth visit since he started his Mideast shuttle diplomacy in March.
He shuttled between Jerusalem and Amman, Jordan, where he held two rounds of talks with Abbas before holding the third meeting in Ramallah, to persuade the two sides to start talking again.
Erekat accused Israel of putting obstacles in Kerry's way with its settlement construction, making reference to a new report that the Israeli government will allow construction of over 900 units in the settlement of Har Homa, south of Jerusalem.
The Palestinians are demanding a halt to settlement expansion in the occupied territories, including in East Jerusalem, which Israel has occupied since 1967 and which the Palestinians want as the land for their future state.
LA Times