'Anyone with a heart' wants to help Syria rebels: Merkel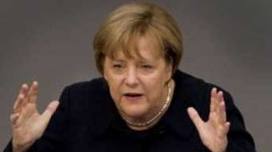 German Chancellor Angela Merkel on Thursday said "anyone with a heart" could understand Western countries wanting to help Syrian rebels with weapon shipments, but reiterated that Berlin would not participate in the risky endeavour.
"The hardship of the people of Syria is immeasurably great, their situation is unbearable", as the United Nations is forced to look on, Merkel said, stressing that "anyone with a heart" would want to help the people suffering under the Bashar al-Assad regime.
"In this desperate situation, which is increasingly threatening the entire region, surely each of us can understand that our friends and partners the US, Britain and France are considering helping parts of the Syrian opposition with weapons shipments," she said.
"Whether this approach can succeed is an entirely different question," she told parliament. "The risks, in my view, would be almost impossible to assess," she said, amid debate whether more arms would only fuel the bloodshed and weapons could fall into extremists' hands.
"But surely the desire to take an effective stand against the killing in Syria and to put an end to the Assad regime's activities can be understood by everyone — at least by anyone with a heart."
She reiterated that at a G8 summit in Northern Ireland this month, "I made it unmistakably clear that Germany for legal reasons sends no weapons into civil war zones, including Syria.
"But I have also made it unmistakably clear that Germany will continue to do everything in its power to help the people of Syria out of the disaster," citing the more than 360 million euros ($470 million) Berlin had already committed in humanitarian aid.
AFP