Mideast Peace 'Possible But Difficult', says Kerry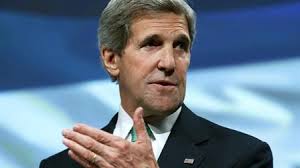 U.S. Secretary of State John Kerry says  Palestinian and Israeli  leaders are both committed to reviving peace talks, but he acknowledged that progress on the long-stalled negotiations would be difficult.
Kerry told reporters in Kuwait Wednesday he does not want to set deadlines for the peace process but that progress must occur long before the U.N. General Assembly meets in September.
If attempts at reaching an accord between the two sides fail, Palestinian leaders have said they would pursue international recognition on their own.
Kerry said Israeli Prime Minister Benjamin Netanyahu and Palestinian President Mahmoud Abbas both wanted the peace process to move forward and that he "would not be [in the region] now" if he did not "believe this is possible."
Israeli settlements are at the heart of the nearly five-year impasse in Mideast peace efforts. An Israeli planning committee Wednesday granted final approval for the construction of 69 east Jerusalem settler homes, on the eve of a brief visit by Kerry.
"This a blind provocation against Kerry," said Meir Margalit, who is a member of the leftwing Meretz party.
"It proves just how much the government of Bibi (Benjamin) Netanyahu wants peace," he retorted, using the nickname of the Israeli prime minister.
The top U.S. diplomat has been shuttling between the Israelis and the Palestinians in an attempt to restart talks.
Later Wednesday, Kerry heads to Amman, Jordan, which he will use as a base for diplomatic talks with Jordanian, Israeli, Palestinian and other officials.
VOA/ Agencies