Lebanon faces tumult after Syria related clashes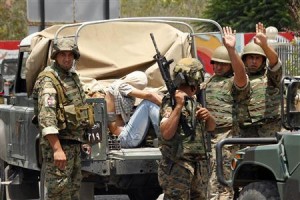 The Lebanese government will try on Tuesday to secure the country after the deadliest violence since the start of a two-year conflict in neighboring Syria that has pushed Lebanon's myriad militia to clashes.
Gunfights between the army and Sunni Muslim radical groups in the southern port of Sidon extended into Monday night after Lebanese soldiers stormed a complex holding gunmen loyal to a radical Islamist cleric and arrested dozens of his supporters. Violence also spread to the city of Tripoli in the north.
Residents fear that Syria-related clashes could drag their country back into sectarian civil war. Lebanon is still struggling to heal the wounds of 15 years of war between 1975 and 1990 and remains home to armed sectarian militia.
The army said 16 soldiers were killed in Sidon where troops stormed the mosque complex of hardline Sunni cleric Ahmed al-Assir. A medic told Reuters that 22 bodies had been pulled from the mosque complex.
Late on Monday, clouds of smoke rose from the mosque. Assir's office across the road was completely destroyed. At least four tanks and several army vehicles at the scene had been torched. Assir remained at large.
The government declared Tuesday a day of mourning for the dead soldiers and caretaker Prime Minister Najib Mikati and premier-designate Tammam Salam issued a statement late on Monday rejecting "any attack on the army".
Sidon had been on edge since violence erupted last week between Sunni and Shi'ite Muslim fighters, at odds over the Syrian conflict which pits mainly Sunni rebels against President Bashar al-Assad, who is a member of the minority Alawite sect, an offshoot of Shi'ite Islam.
Lebanese Shi'ite militant group Hezbollah has sent fighters into Syria to help Assad's forces recapture a strategic town, enraging Sunni groups.
Fighting started after gunmen loyal to Assir opened fire on an army checkpoint on Sunday, the army said. Assir's supporters accuse the army of backing Hezbollah.
The government called for the need to secure Sidon and "prevent all armed manifestations in a comprehensive manner."
Violence spread on Monday to Tripoli, where gunmen opened fire on the military and blocked roads with cement blocks and burning tires. Clashes there have wounded two soldiers and three gunmen.
In the capital Beirut, militia loyal to both sides blocked roads. Local media reported that some hardline Sunni mosques in Tripoli and Beirut called for jihad, or holy war, in support of Assir. Jihadi feeds on Twitter were also full of calls for Sunnis to fight in support of him.
Reuters
Photo: Lebanese army soldiers gesture as they capture a gunmen in Sidon, southern Lebanon, June 24, 2013. REUTERS/Ali Hashisho