Brazil's Leader Proposes Changes to System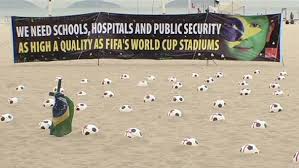 President Dilma Rousseff of Brazil proposed a series of bold changes to the country's political system on Monday, including convening a constituent assembly apparently aimed at overhauling Congress and campaign-finance methods, in an effort to assuage the concerns of protesters who have stunned the nation this month with their anti-establishment demonstrations.
In detailing her plans, Ms. Rousseff seemed to be aiming for a relatively accommodating response to the protests, in contrast to how leaders elsewhere have reacted to major street mobilizations. Among them, Prime Minister Recep Tayyip Erdogan of Turkey has adopted a far more bellicose stance against residents who are furious about his plans to raze a park in the middle of Istanbul.
The protests in Brazil, the most wide-reaching in two decades, have vented anger at the political class in general. The demonstrations continued on a smaller scale on Monday; two women who were taking part in a protest blocking a highway near the capital, Brasília, were killed when they were hit by a car, raising to four the number of people who have died amid the protests this month.
Ms. Rousseff expanded upon proposals she unveiled on Friday in a nationally televised address. She said Monday that the government would allocate more than $22 billion to upgrading public transit systems, largely by building subways, and emphasized that hiring foreign doctors to work at beleaguered public hospitals — an unpopular plan among Brazilian doctor groups — would be an "emergency step."
She also proposed stiffer penalties for political corruption, which has emerged as a top concern among protesters, and increasing the pay of teachers. And in move that could rattle the governing Workers Party's alliances in Congress, she proposed holding a plebiscite over whether Brazil should convene a constituent assembly intended to carry out "political reform." It was not immediately clear what she meant by that, though she said it should "expand popular participation."
"Now the people out on the streets want more," Ms. Rousseff said, announcing the proposals after meeting with leaders from the Free Fare Movement, a group that set off the demonstrations with a series of smaller protests against bus-fare increases.
The proposed political changes, like other suggestions to spend 100 percent of oil royalties on education and hire foreign doctors to work in rural areas, revive a plan that has been floated before without success by the Workers Party.
NY Times