Lebanon Mufti denounces the attack against the Army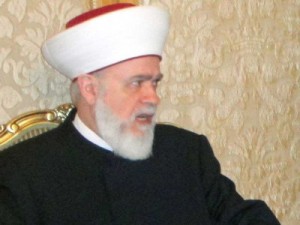 The Grand Mufti  of the Republic  Sheikh  Mohammad Rashid Qabbani denounced Monday the attack against the army that claimed the lives of over 17 soldiers and 25 gunmen in the southern city of Sidon.
"The attack against the army is a crime against Lebanon  ," the  mufti said.
Qabbani also slammed  militant Islamist Sheikh Ahmad Al-Assir 's call for Sunni soldiers to defect from the Army.
"The call on Sunnis to defect the army is a crime against the Sunnis and the Lebanese Army," he stressed
Qabbani also called for an investigation into the Sidon events.
Assir  rose to prominence for his outspoken opposition to the regime of Syrian President Bashar al-Assad and his calls for disarming Hezbollah.
Lebanese army commandos seized Monday the Mosque complex belonging to Sheikh Assir in the southern coastal city of Sidon, in the second day of clashes between the military and gunmen loyal to the militant preacher that have claimed the lives of at least 17 soldiers and more than 25 gunmen.