EU risks upsetting Turkey with threat to call off talks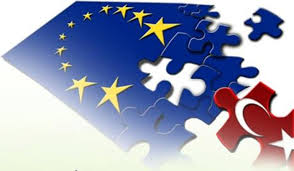 The European Union is on the verge of scrapping a new round of membership talks with Turkey, a move that would further undermine Ankara's already slim hopes of joining the bloc anytime soon and damage its relations with Brussels.
Germany, the EU's biggest economic power, is blocking efforts to revive Turkey's EU membership bid, partly because of its handling of anti-government protests that have swept the country in the last few weeks, EU sources say.
The Netherlands, too, has voiced reservations about the EU's plan to open talks with Turkey next Wednesday on a new "chapter", or policy area, the sources say.
EU officials had hoped that opening the new chapter, on regional policy, would breathe new life into Turkey's deadlocked EU membership negotiations.
EU ambassadors, who failed to agree last week, were due to discuss the issue for a last time on Monday morning.
German Foreign Minister Guido Westerwelle, who has been more positive on Turkey's accession to the EU than Chancellor Angela Merkel, said he still hoped for an agreement in the coming days.
"We are on a good path," he told the broadcaster ARD, adding that there was still the possibility of a positive outcome, although he did not expect a decision on Monday. "We are working on this," he said.
If there is no last-minute change of heart in Berlin, Ireland, currently holder of the EU presidency, will have to tell Turkey that Wednesday's meeting has been postponed or cancelled.
Turkey, already locked in a diplomatic row with Germany after Chancellor Angela Merkel said she was appalled by its crackdown on protesters, has made clear it would respond forcefully to any EU decision to scrap Wednesday's talks.
ALARM
Germany's hardline stance is causing alarm among some European policymakers who think the EU should be engaging more with Turkey to support civil rights rather than moving away.
"It would be a huge mistake to try to block Turkey's EU progress right at this time," Swedish Foreign Minister Carl Bildt tweeted on Sunday.
Marietje Schaake, a Dutch liberal member of the European Parliament, said it would be unwise for the EU to slam the door on Turkey.
"This situation creates … a chance for the EU to step up efforts to improve the rule of law in Turkey, such as the independence of the judiciary and respect for the fundamental rights of all people in Turkey," she said on her website.
Analysts see electoral considerations as playing a role in Germany's position. Merkel's conservatives oppose Turkish EU membership in their manifesto for September's parliamentary election and delaying talks with Turkey could help them politically.
Amanda Paul, a Turkey expert at the European Policy Centre think tank, said Germany's stance would have an "extremely serious" impact on Turkey's membership negotiations, already virtually blocked for three years.
"I don't see the logic behind what the Germans are doing … because it is not going to be helpful to either Turkey or the EU. This relationship is an important relationship, it is not one that can just be thrown away," Paul said.
STRATEGIC CASE
Fadi Hakura, a Turkey expert at London's Chatham House think tank, said the Turkish government was in a "very prickly and combative mood" and was likely to respond to an EU snub by suspending political contacts and meetings with EU institutions, and possibly recalling its ambassador.
However, Mark Leonard, director of the European Council on Foreign Relations think tank, did not see Turkey breaking off accession talks, which began in 2005, 18 years after Turkey first applied to join.
Given Turkey's position adjoining Iran and Syria, the strategic case for Europe having a relationship with Turkey was greater than ever, he said. Turkey is an influential power in the Middle East and a member of the NATO military alliance.
Turkey's negotiations to join the EU have so far advanced at a glacial pace. It has provisionally closed just one of 35 chapters or policy areas.
It has opened a dozen more chapters but most of the rest are blocked due to disputes over the divided island of Cyprus or hostility from some EU members, especially France – though that has eased under President Francois Hollande. It has not opened a new chapter since 2010.
Turkey has been leapfrogged by many other EU applicants. Croatia, which applied for EU membership in 2003, is set to become the EU's 28th member next month. The deadlock means the EU has lost its appeal for many Turks.
France and Germany have always had doubts about allowing a largely Muslim country of 76 million people into the European club, fearing that cultural differences and its size will make it too difficult to integrate
Ankara's supporters, led by Britain and Sweden, say the EU can benefit from Turkey's growing economic clout and its role as an intermediary in the Middle East, and that Europe needs its cooperation to secure energy supply routes.
Reuters