Only Hezbullah, PFLP-GC possess Ballouneh type rockets, CNA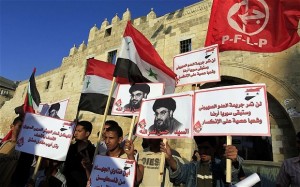 Initial investigations have determined that the only forces that possess 122mm Grad rockets that were discovered in Ballouneh in Lebanon's Kesrouan region on Friday are Hezbullah and the Popular Front for the Liberation of Palestine-General Command PFLP-GC informed sources told the Central News Agency (CNA) according to a report by An Nahar newspaper.
Both Hezbollah and Popular Front for the Liberation of Palestine-General Command (PFLP-GC) are staunch allies of the Syrian regime of president Bashar Al Assad
An Nahar reported that the investigations are currently focusing on how the rockets and their launch pads were placed in the region and what their target was.
Sources told the daily that the incident was aimed at intimidation and creating confusion in Lebanon.
"The location where the launch pad was stationed makes it hard to determine the target of the rockets," they added.
The Central News Agency noted that the rockets located in Ballouneh differ from the ones that were fired at Hezbollah stronghold in Beirut's southern suburbs last May.
It explained that the two rockets that targeted the suburbs were fired in a traditional manner whereas the rockets found at Ballouneh were set to be remotely fired.
One of the 122mm Grad rockets was fired from the Kesrouan region, but the other one failed to take off due to a technical malfunction, the report added.
A strong blast was heard in the early hours of the morning on Friday in the Kesrouan district.
The high-voltage power line in Bsous-Kahale was hit by the rocket launched the Kesrouan district, NNA reported last Friday.
Some reports indicated that Baabda palace was the target of the attack.
The attack came 2 days after Baath Party MP Assem Qanso , a close ally of the Syrian regime accused President Michel Suleiman of high treason and called for his prosecution after the latter filed a memorandum of complaint to the UN concerning Syrian violations of Lebanese sovereignty.
Photo: PFLP-GC and Hezbollah supporters rally in support of the Syrian regime on May 8, 2013. Both Hezbollah and Popular Front for the Liberation of Palestine-General Command (PFLP-GC) are staunch allies of the Syrian regime of president Bashar Al Assad