Syrian regime raises army wages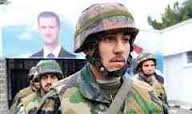 Syrian President Bashar al-Assad ordered a pay rise on Saturday for all military and civil service personnel, as his regime sought to give its loyalists some protection against soaring inflation.
Soldiers and civil servants will get a 40 percent pay rise on the first 10,000 pounds (50 dollars) a month of their salaries, and a further 20 percent rise on the next 10,000, the decree carried by the official SANA news agency said.
Pensions will also rise.
It was the second pay increase Assad had ordered for the civil service and the army since the uprising against his rule erupted in March 2011.
The 27-month conflict has seen the Syrian pound lose 300 percent drop of its value against the dollar, sending the cost of imported goods spiraling, and eroding the purchasing power and living standards of those on fixed incomes.
NOW/AFP