Obama nominates David Hale as new Lebanon ambassador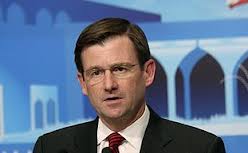 President Barack Obama Friday nominated his special envoy for Middle East peace, David Hale, as the next US ambassador to Lebanon, as part of a shake-up of the administration's regional team.
Hale took over the Middle East post after veteran peacemaker George Mitchell left in May 2011, disheartened by a lack of progress in the peace talks.
It was not immediately clear who would be named to replace him, with US Secretary of State John Kerry engaged in intensive diplomacy to try to bring the Israelis and Palestinians back to the negotiating table.
The news came as Kerry left Friday on a 12-day trip which will see him criss-cross the Middle East, visiting both Jordan and Israel for talks with senior leaders on both the peace process and the raging conflict in Syria.
Al-Monitor, a new online website dedicated to Middle East news, speculated that former Clinton advisor Rob Malley, currently with the International Crisis Group, may be tapped by Obama to take over from Hale.
A veteran diplomat, Hale has served in embassies all over the Middle East including in Jordan, where he was ambassador from 2005 to 2008, having moved up from charge d'affaires and deputy chief of mission.
Hale joined the Foreign Service in 1984, and also spent two tours of duty in Lebanon from 1992 to 1994, and then again from 1998 to 2001. His nomination will have to be confirmed by the Senate.
Lebanon is one of the key countries on the frontline of the Syria conflict, having taken in hundreds of thousands of Syrian refugees.
The US ambassador to Syria, Robert Ford, who was forced to leave the country in 2011 amid the fighting, is also reportedly said to be stepping down in the coming weeks, exhausted by efforts to mediate with the opposition.
Hale's nomination came amid a slew of announcements from Obama aiming to fill some long-standing gaping holes in his second administration.
Obama also tapped Linda Thomas-Greenfield as assistant secretary for African affairs to take over from the widely-respected Johnnie Carson who left in December.
Thomas-Greenfield was the ambassador to Liberia from 2008 to 2012, and has also had overseas postings in Nigeria, The Gambia, Kenya, Jamaica and Pakistan.
AFP