Angelina Jolie urges world leaders to end Syria conflict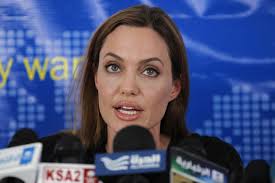 Actress and UN special envoy Angelina Jolie has urged world leaders to end the conflict in Syria.
Speaking at a news conference in a refugee camp in Jordon she said: "I appeal to the world leaders to please set aside your differences, unite to end the violence, make diplomacy succeed."
"The UN Security Council must live up to its responsibilities," she added.
Since the Syrian conflict began in March 2011, at least 93,000 people have been killed, the UN said on 13 June.
The number of people fleeing the conflict in Syria has reached 1.6 million, according to the latest figures from the United Nations.
BBC