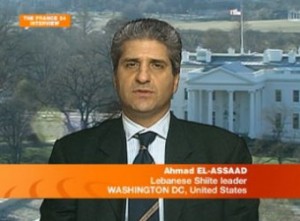 The leader of the Lebanese Option Party Ahmad al-Asaad blamed Hezbollah leader Hassan Nasrallah and senior officials in the Lebanese state Sunday for the recent killing of an anti-Hezbollah protester outside the Iranian Embassy in Beirut.
Asaad also scheduled another protest which is set for Sunday June 23, at the same time and place of Hashem Salman's killing – 12:30 p.m. in front of the Army barracks near the Iranian Embassy in the Bir Hassan neighborhood.
Salman, 28, the leader of the student section of the Lebanese Option party , was killed and several other protesters were wounded in the June 9 demonstration, outside the Iranian Embassy in Beirut.
Asaad comments came during a rally at his residence in the Baabda village of Hazmieh marking a week since Salman's death.
"Hashem Salman tried to jump into a four-wheel drive car to ask for the protection of the Army personnel in it, but they pushed him back outside toward the people wearing black shirts and told him that they are not going to be involved in this," Asaad said.
Asaad also directed part of his ire at Lebanon's state institutions. "I also hold the Lebanese state as well as the security forces that were present at the site of the protest but didn't interfere to protect the innocent youth responsible and complicit in this crime," Asaad said.
DS