Suleiman bypasses FM, calls UN directly over Syria attacks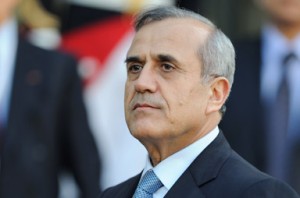 Al-Hayat newspaper reported that President Michel Suleiman asked directly the Lebanese Mission at the UN to inform the the United Nations officials about Syrian air raids and rocket attacks carried out by Syrian regime.
Suleiman reportedly contacted the UN mission directly because foreign minister Adnana Mansour refused to file a complaint with the UN because he reportedly believes that existing agreements between Lebanon and Syria prevent Lebanon from taking such a step because the agreements consider Syria a sister state.
Al Hayat report comes after the U.N. Security Council denied receiving any offical complaints from Lebanon against the Syrian violations.
Syrian regime troops have carried out attacks on border areas, mainly air raids on the northeastern town of Arsal, which has become an escape route for rebels and people running away from the fighting in Syria.
Mansour, a member of the Amal Movement, a close ally of the Hezbollah militant group which is fighting in Syria alongside the Syrian regime has resisited in the past filing any complaints against the Syrian regime.