Over 70 Syrian Army Officers Defect To Turkey , report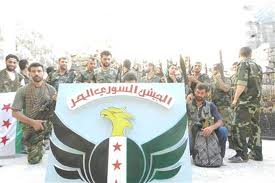 As many as 73 Syrian military officers – including seven generals and 20 colonels – have crossed the border with their families "seeking refuge" in Turkey, the country's state-run news agency reported Friday.
The Anadolu Agency said the group – totaling 202 people – arrived in the border town of Reyhanli and were taken to a Turkish refugee camp that houses military officers who have defected from the Syrian army.
The report did not say when they had arrived and Turkish Foreign Ministry officials and the local administrator in Reyhanli could not immediately confirm the report.
The report of the defections come after U.S. President Barack Obama authorized lethal aid to Syrian rebels following a U.S. announcement that it had conclusive evidence that the Syrian regime used chemical weapons against opposition forces.
U.S. officials are still grappling with what type and how much weaponry to send.
Earlier on Friday, Turkey said the U.S. announcement corroborates its own findings and urged the international community to take a decisive stance against the regime's "atrocity." Turkey has said preliminary tests on some injured Syrians indicated that chemical weapons had been used.
A Turkish Foreign Ministry statement called on the international community to unite against Syrian President Bashar Assad. It stated the regime's attacks must be halted and a "democratic transition process" must start in Syria.
Once a close ally of Syria, Turkey turned into one of the Assad regime's harshest critics after the uprising began two years ago. Turkey is now a key supporter of the Syrian rebels, offering shelter for many senior and lower-ranking defected Syrian soldiers.
Huffington Post