Syrian rebels plead for weapons to prevent fall of Aleppo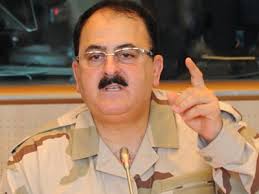 A top Syrian rebel commander has issued a desperate plea for weapons from Western governments to prevent the fall of his forces in Aleppo, pushing the Obama administration to decide quickly whether to agree to arm rebels for the first time or risk the loss of another rebel stronghold just days after the regime's biggest victory.
Gen. Salim Idris, the top Syrian rebel commander backed by the West, issued a detailed request in recent days to the U.S., France and Britain for antitank missiles, antiaircraft weapons and hundreds of thousands of ammunition rounds, according to U.S. and European officials and Mr. Idris's request to the Americans, a copy of which was reviewed by The Wall Street Journal.
Gen. Idris's call comes at a pivotal moment in Syria's war, following rapid-fire gains by Bashar al-Assad forces, including last week's recapture of Qusayr, a strategic town near the Lebanon border. Fighters from Hezbollah, which were crucial in helping the Assad regime to take Qusayr, are now massing around Aleppo, say rebels and Western officials.
The appeal also came ahead of meetings that started Tuesday at the White House, in which President Barack Obama and his top advisers are reviewing proposals that would allow the U.S. to arm the rebels. One option calls for the U.S. to provide funds to allies Britain and France to jointly buy weapons for the Supreme Military Council, the rebel army leadership board commanded by Gen. Idris, according to U.S. officials.
While many administration officials believe the recent gains by Syrian regime forces could diminish, a growing number of U.S. intelligence and defense officials say momentum is in Damascus's favor as militants from Iran-backed Hezbollah have come to its aid. Syrian rebels are also facing new incursions by pro-government forces in the vast stretch of the north under their control.
"We are now at the tipping point," a senior European official said.
Any future arms deliveries could take place in Jordan, increasing the need for defenses there, say U.S. military planners. The U.S. military is taking steps to shore up ally Jordan and prepare for other Syria contingencies by moving to keep F-16 warplanes and anti-missile systems there and by positioning a warship full of Marines nearby.
In the arms list he submitted to American officials, Gen. Idris said his forces defending Aleppo need 200 Russian-made Konkurs antitank missiles and 100 shoulder-fired antiaircraft weapons known as Manpads. He also asked for 300,000 rounds of Kalashnikov ammunition, 100,000 rounds of rifle ammunition, 50,000 rounds of machine gun ammunition and high resolution satellite imagery.
White House National Security Council spokesperson Caitlin Hayden declined to comment on Gen. Idris's request or on the options now under consideration by Mr. Obama. "We're working closely with the opposition," she said.
While Ms. Hayden said "all options are on the table," she noted that Mr. Obama has made clear that he doesn't foresee scenarios in which U.S. ground troops would be sent into Syria.
When rebels mounted their campaign to capture Aleppo last summer, many of their leaders mistakenly believed that the U.S. was close to offering them arms or to creating a no-fly zone. But proposals to arm the rebels, advocated by then-Central Intelligence Agency chief David Petraeus and then-Secretary of State Hillary Clinton, ran into opposition in the White House from Mr. Obama. Now, amid fears the rebels could lose Aleppo, similar proposals to arm the rebels are gaining traction in the White House.
Mr. Obama is expected to discuss ways to bolster the opposition during meetings next week with other leaders of the Group of 8 major powers. French officials plan to meet Gen. Idris this weekend to assess his needs and the situation.
This week's White House meetings took on added urgency following a phone conversation over the weekend between Gen. Idris and a senior State Department official, which was described by current and former U.S. officials. In the call, they said, the rebel commander warned that Mr. Assad was amassing forces outside Aleppo and increasingly using air power to attack rebel positions.
Rebel fighters reached in Aleppo said they badly need ammunition. They disputed suggestions that the rebel fight there was on the verge of collapse, however.
Hezbollah fighters are amassing around two strategic points that they could use to launch a campaign to retake rebel-held areas, according to a spokesman for the Tahwid Brigade, a large rebel unit that launched the push into Aleppo last year. In addition, thousands of Alawites belonging to pro-regime paramilitary groups are being sent to Aleppo, say relatives of these fighters and security officials.
In meetings and calls with U.S. officials, Gen. Idris told them that Mr. Assad is amassing forces in western and southwest Aleppo for a possible assault. He told the Americans that "he cannot hold on to Aleppo without these weapons," according to a U.S. official involved in the discussions.
Though the White House hasn't announced any decisions by Mr. Obama out of this week's meetings, officials say there is growing support in the White House for providing arms to the rebels and that talks are under way with key allies Britain and France about moving in concert to shore up Gen. Idris's forces.
Under one proposal receiving active consideration by the White House, the Obama administration would provide funds to Britain and France, which would procure arms for the rebel Free Syrian Army, according to a senior U.S. official. The arms deliveries would then be monitored by the U.S. and allied intelligence agencies to try to ensure that, once delivered, they don't end up in the hands of Islamists aligned with al Qaeda, U.S. officials say.
The European Union recently lifted its arms embargo of Syria, allowing members to send arms and providing an umbrella for a joint effort to shore up moderate rebels.
France is concerned that rebel forces won't be able to defend Aleppo without shipments of antiaircraft arms from Western countries. For months, Paris has cultivated ties with Gen. Idris, sending him medical supplies and nonlethal military equipment.
But any move by France to send arms to Gen. Idris any time soon would likely anger other EU countries. The EU lifted the bloc's embargo on arming the Syrian opposition last month, on the condition that Paris and London wouldn't make any shipments until Aug. 1.
Paris is committed to respecting that deal, French officials say. These officials note, however, that the timetable amounts to a "gentlemen's agreement" that isn't legally binding.
Officials said it is unclear if Qatar and Saudi Arabia, currently the main suppliers of arms to the rebels, would sign up to such a U.S.-European pool arrangement.
Some administration lawyers have raised legal objections to the U.S. furnishing arms to the FSA, barring a clearer U.S. break with Mr. Assad. That is in part because while the U.S. has said Mr. Assad has lost his legitimacy, the U.S. still officially recognizes the government in Damascus. "Recognition is a consideration," another senior U.S. official said.
Advocates say supplying arms could help shore up the FSA and help undercut recent military gains by Mr. Assad. "They are not going to hold the ground they have in Aleppo against this kind of onslaught unless they have a change in capability," said a U.S. official.
But some U.S. officials say the arms would mainly be of symbolic value because there is no shortage of small arms in Syria. One official compared it to "throwing pebbles in the ocean." U.S. advocates of fulfilling Gen. Idris's request say the biggest concern is the shortage of ammunition, which will hamstring his forces' ability to defend Aleppo and preclude new offensives.
Officials said the arrangement would allow the U.S. and its allies to decide for themselves what types of weapons they are willing to pay for. France and Britain may be more willing than the U.S. to supply Gen. Idris's forces with antiaircraft and antitank weapons, U.S. and European officials say.
Gen. Idris has also renewed his appeal to the West to set up a no-fly zone that could cover Aleppo, an idea that has gained little traction within the White House or Pentagon because enforcing it would be risky for U.S. pilots.
The U.S. military has taken quiet steps in recent months that could make it easier to establish a no-fly zone based in Jordan should Mr. Obama decide to set one up, or facilitate other types of military operations.
The military recently deployed Patriot anti-missile batteries and F-16 fighters in Jordan to take part in military exercises there, defense officials say. Defense Secretary Chuck Hagel is expected to approve a military request to keep both the Patriots and some of the F-16s there after the war games are completed, U.S. defense officials say.
The prime purpose of keeping the Patriots and F-16s in Jordan would be to reassure the Kingdom, a key U.S. ally in the region, of U.S. backing.
As part of the exercises, called Eager Lion, the U.S. military has moved a big-deck amphibious warship carrying a Marine Expeditionary Unit to Jordan's Red Sea port of Aqaba. The military has sent F-18 warplanes to Jordan as part of the exercise, and the amphibious ship has V-22 tilt-rotor Ospreys onboard. Ospreys could be useful to rescue downed pilots, officials say.
While the Marine Expeditionary Unit is due to leave Jordan after the Eager Lion exercise, military officials say the Marines will remain in the region and could be redeployed to Aqaba or the Mediterranean within days should the order be given to do so.
WSJ