Rebel rockets hit Damascus airport, report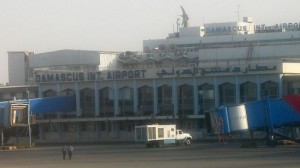 Rockets hit Damascus International Airport on Thursday, activists and local media said, in one of the first major rebel attacks on the facility near the Syrian capital in months.
The pro-opposition Syrian Observatory for Human Rights said several homemade rockets hit the airport, which had been surrounded and briefly cut off by a rebel offensive last year.
Syrian state television said mortar fire hit the outer edge of the airport near a runway, forcing several flights to be delayed as a precaution. It said one person was wounded when a storage facility was hit.
President Bashar al-Assad's forces reopened the airport road several months ago and dislodged rebels from positions nearby.
The armed forces have been trying to drive rebels from their strongholds in suburbs around Damascus, the seat of Assad's power. The city center has largely escaped the heavy fighting that has engulfed much of Syria in the past two years.
The United Nations said on Thursday that at least 93,000 people had been killed in the conflict.
The Beirut-based Al Mayadeen television station said three mortar bombs hit the airport, citing sources there.
State-owned Russia Today also reported rocket attacks and said these had hit an Iraqi plane, wounding four passengers and four airport employees.
Reuters was unable to verify the reports due to government restrictions on international media access.
Reuters