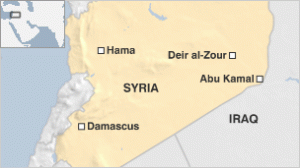 Syrian rebels have gained control of a key military base in the central Hama province after intense clashes with regime forces, activists said.
The base is on the northern edge of the town of Morek, which straddles the country's strategic north-south highway leading to the province of Aleppo.
The Britain-based Syrian Observatory for Human Rights said the rebels seized the base this morning after intense clashes with regime forces.
The Observatory said the rebels killed six government troops and seized weapons and ammunition. A video posted on Hama activists' Facebook page shows flames rising from the burning compound and the bodies of some of the killed fighters.
President Bashar Assad's forces are waging an offensive to drive rebels out of the central provinces of Hama and Homs, and the northern Aleppo province.
The latest battle came with the US government split over whether to arm the rebel forces or make other military moves that would deepen US involvement in the conflict.
President Barack Obama's top national security advisers met at the White House yesterday to air their differences.
The administration's caution persists despite its nearly two-year-old demand that Assad step down, its vows to help the besieged Syrian rebels on the ground and its threats to respond to any chemical weapons use.
US officials had hoped this week to reach a decision on arming the rebels to halt the violence that has killed 80,000 people and motivate the government and the opposition to hold peace talks.
But they are still uncertain whether that is the best way to reshape a war that now includes Hezbollah and Iranian fighters backing Assad's armed forces, and al Qaida-linked extremists backing the rebellion.
"Nobody wins in Syria the way things are going," secretary of state John Kerry told reporters after talks with UK Foreign Secretary William Hague.
"The people lose and Syria as a country loses. And what we have been pushing for, all of us involved in this effort, is a political solution that ends the violence, saves Syria, stops the killing and destruction of the entire nation."
The Independent
This error message is only visible to WordPress admins
Error: No connected account.
Please go to the Instagram Feed settings page to connect an account.