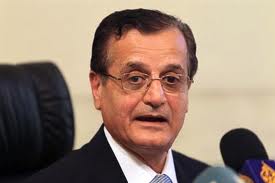 Lebanese caretaker Foreign Affairs Minister Adnan Mansour criticized the decision taken by Gulf countries to take actions against Hezbollah supporters over the party's increased involvement in the fighting in Syria.
"The Gulf Cooperation Council decision to take measures against Hezbollah is political and won't affect the brotherly relations with these countries," Mansour told LBC television station on Tuesday.
"There's no justification for expelling the Lebanese nationals from Gulf states," Now quoted him as saying
The minister also said that Hezbollah cannot be made solely responsible for interfering in the fighting in Syria.
"More than one Lebanese side interfered in Syria and blame could not be put on one side only." Mansour, a member of the Amal Movement a close ally of Hezbollah said.
On Monday, the GCC announced it will take action against the partisans of Hezbollah due to the Lebanese Shiite party's active role in the Syrian war.
Hezbollah fighters have been fighting alongside the regime of Syrian President Bashar al-Assad and were able to win the battle for the Syrian border town of Al-Qusayr, a strategic rebel stronghold linking Damascus to the Mediterranean coast.
Syria's rebels conceded last Wednesday that they had lost the battle for Al-Qusayr after the army claimed it had seized total control of it and the surrounding region.
Shiite expats worried
The GCC announcement has sparked fears that Lebanese Shiite expatriates unaffiliated with the party could be singled out or even expelled, analysts said Tuesday.
"Lebanese Shiites may face expulsion for their alleged affiliation with the party," economist Ghazi Wazni was quoted as saying by the Daily Star.
Wazni did not know how many Lebanese Shiites were working in the Arab Gulf countries:
"No one has details or information on the number of Lebanese Shiite in the Gulf region but I doubt that the number of the Shiite will exceed 18 percent of the entire Lebanese expatriates in these countries," Wazni said.
There are an estimated 500,000 Lebanese expatriates in Saudi Arabia, the United Arab Emirates, Kuwait, Bahrain, Qatar and Oman – the GCC's six member states.
Some of the Lebanese Shiite businessmen who have been working in the UAE for many years fear that the authorities may suddenly find an excuse to expel them.
Two years ago, the UAE expelled close to 100 Lebanese Shiites, citing security reasons.
A fall in the number of Lebanese expatriates could have another effect. Remittances from expats in the GCC come to around $4 billion every year – more than 50 percent of the global total remitances.
Wazni said he feared the Lebanese economy would suffer significantly if the remittances from the GCC fell drastically.
Another economist, who spoke on condition of anonymity, said that some of the Gulf states may even withdraw their investment from Lebanon in a bid to force the authorities to apply more pressure on Hezbollah.
Sources estimate Gulf investments in Lebanon over the past 10 years have reached close to $12 billion.
According to the economist all these pressurs may not dissuade Hezbollah from getting involved in Syria and Lebanon in the end may pay the price if the Arabian Gulf countries decided to apply penalties on the country