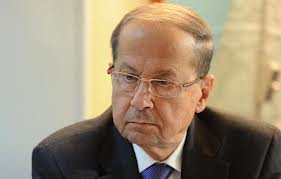 Free Patriotic Movement leader MP Michel Aoun denounced the Constitutional Council's failure to convene in order to address the issue of parliament extension and described the move as 'very dangerous'.
"The session was transformed from a legal one to a political one… We consider its failure to meet after several of its member were absent as very dangerous, since the council is the last institution to be free from disruption," Aoun said following the weekly meeting of his parliamentary bloc on Tuesday.
The FPM leader also rejected the proposal for reducing the extension term from 17 to six months, saying that the Constitutional Council should "either accept our reject our appeal and not deal with issues like the length of the term extension."
The Lebanese Constitutional Council failed to meet Tuesday to discuss an appeal against the extension parliament's term after quorum could not be reached. The lack of quorum came after two Shiite members of the Constitutional Council and another from the Druze community failed to show up to the noon meeting of the 10-member body, which is split evenly between Christians and Muslims.
A delegation from Aoun's Change and Reform bloc submitted last week an appeal before the Constitutional Council against the parliament's bill to extend its own term for 17 months.
Parliament term was extended later in May after Lebanon's political circles failed to reach an agreement over a new electoral law.
Aoun also addressed the issue of the Syrian refugees in Lebanon, criticizing the country's caretaker Interior and Social Affairs Ministers for failing to react quickly to the threat posed by the Syrian displaced.
Now