GCC Condemns Hezbollah's Incursions in Syria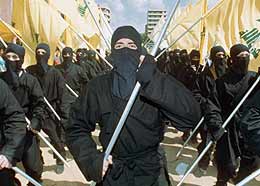 The GCC has today strongly condemned Lebanese Hezbollah for its blatant interference in the Syrian crisis, causing the death of innocent civilians.
The GCC member states slammed the Lebanese militia, saying that its incursions in Syria and involvement in massacring innocent civilians have laid bare its heinous nature and true designs which exceed the frontiers of Lebanon and the Arab World.
In a statement today, the GCC member states described Hezbollah's incursions as illegal, condemning the atrocities perpetrated by the Lebanese militia in Syria.
They warned that such atrocious acts would harm Hezbollah's interests in the GCC countries.
The GCC has also announced that measures have been taken against Hezbollah followers in the member countries, regarding their residence, financial or commercial transactions.
The GCC member states have also called on the Lebanese Government to assume its responsibilities regarding Hezbollah's illegal and inhuman acts in Syria and the region.
BNA