Hezbollah transforming Syria war to Sunni-Shiite conflict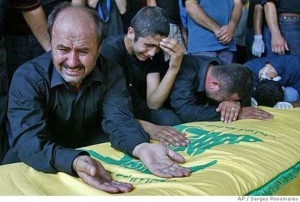 The leader of Syria's main opposition group on Friday warned that the involvement of Hezbollah is transforming the war in Syria into a sectarian conflict between Sunnis and Shiites, and says peace negotiations aren't possible as long as Hezbollah and Iran are fighting alongside President Bashar Assad's regime.
George Sabra, acting head of the Western-backed Syrian National Coalition, told The Associated Press that Syria was under occupation from foreign troops and urged the international community to act now or risk the Syrian conflict spreading to other parts of the Middle East.
"The intervention of Hezbollah starts to transfer the problem into a sectarian conflict, a sectarian war between Sunnis and Shiites," he said. "The problem will (spread) all over the Middle East, to Lebanon, to Turkey, to Iraq, to Jordan and maybe to the Gulf."
He said that Hezbollah soldiers, who back Assad's regime, are now "all over the country," including in Aleppo and Damascus. His claims could not be independently verified. Hezbollah is a Shiite group while the Syrian rebels are overwhelmingly Sunni Muslims.
"If our country (is) under occupation of foreign troops of Hezbollah and Iran, nobody can talk about peaceful initiative," he said. "The problem is not between the Syrian people and the regime; it is between the Syrian people and invasion of Hezbollah and Iran."
His comments came after Assad's forces captured the strategic town of Qusair due in large part to Lebanese Hezbollah fighters' increasing role and the West's continued reluctance to arm the rebels out of fear they might fall into the hands of Islamic extremists fighting in the rebel ranks. The capture of the town near the Lebanese border was portrayed by Syrian state-run media as a turning point in the civil war that has lasted longer than two years and killed tens of thousands of people.
The position of Qusair makes it easier for Hezbollah to ship fighters and weapons across the border from Lebanon. The militia has sent fighters to two areas near Damascus, just a two-hour drive from the Lebanese border, while many of the rebel-held areas are more remote and more difficult for Hezbollah to reach.
Hezbollah has justified its involvement in the fight for Qusair by saying it is protecting Lebanon from Sunni extremists among the ranks of rebels fighting Assad.
Sabra was in Copenhagen to meet with Danish Foreign Minister Villy Soevndal as he seeks support from Western capitals.
Associated press
Photo: Relatives mourn the death of a Hezbollah fighter killed in Syria while fighting against the Syrian rebels. Hundreds of Hezbollah fighters have reportedly been killed while fighting in support of the Syrian regime of president Bashar al Assad.