UNHCR: Over 511, 000 Syrian refugees in Lebanon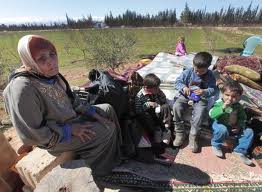 Total number of Syrian refugees in Lebanon has exceeded 511,000, according to a UN report released here on Saturday.
The weekly report of the United Nations High Commissioner for Refugees (UNHCR) points out that 437,406, Syrian refugees have been registered by the UNHCR and 73,814 are awaiting to be included. in the records. This number represents 99,680 households.
About 4000 refugees entered lebanon last week according to UNHCR.
According to the UNHCR report :
* 1,604,452 Syrians are hosted in foreign countries, placing unprecedented strain on communities, infrastructure and services in host countries.
LEBANON 511,418, JORDAN 472,631 , TURKEY 376,640, IRAQ 155,139, EGYPT 77,169
* There has been a massive escalation of arrivals in 2013. Over one million Syrian refugees have registered as refugees since the beginning of 2013.
*If current trends persist, it can be expected that over 3 million Syrians would have left their country by the end of 2013.
* Women and children make up three-quarters of the refugee population.
* The vast majority of refugees are dependent on aid, arriving with little more than the clothes on their backs.
By the end of the year it is estimated that half of the population of Syria will be in need of aid. This includes an anticipated 3.45 million Syrian refugees and 6.8 million Syrians inside the country, many of whom will be displaced from their homes, according to the report