Hezbollah denies members captured in Syria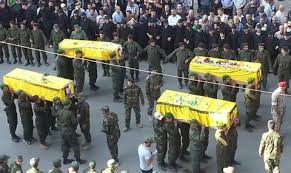 The Hezbollah militant group categorically denied on Saturday reports of its members being taken prisoners by armed militants in Syria.
In a statement by its media department, Hezbollah said "not a single combatant from our mujahideen had fallen into their hands."
The rebel Free Syrian Army claimed Friday that it had captured a number of Hezbollah members in Damascus province following fierce clashes.
"The Free (Syrian) Army has seized control of several posts west of Muadhamiyat al-Sham," the opposition Local Coordination Committees, a network of peaceful Syrian activists, said, adding that the rebel forces had detained "a number of members belonging to the Abu al-Fadl al-Abbas Brigade and Hezbollah."
Hezbollah is fighting alongside the Syrian army against the rebels who are seeking to topple President Bashar Assad. Funerals for Hezbollah fighters that were killed in Syria are being held on almost daily basis in Lebanon.
Thousands of Hezbollah fighters are taking part in the Syrian civil war and several hundred have been killed, according to an Intelligence report. According to the report Hezbollah is helping train the regime forces in guerrilla warfare, urban warfare, explosives and sniping. The Shiite group also carries out intelligence and border security, the report stated
At least 94,000 people have been killed during Syria's two-year conflict, but the death toll is likely to be as high as 120,000, the Syrian Observatory for Human Rights said on May 14, 2013
Agencies