South Africans pray for Mandela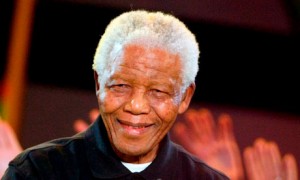 South Africans prayed for Nelson Mandela's recovery on Sunday as the 94-year-old former president spent a second day in hospital with a recurring lung infection.
Mandela, who became a global symbol of triumph over adversity and South Africa's first black leader in 1994 after the defeat of apartheid, was hospitalized early on Saturday after his already frail health worsened.
It is his fourth hospital stay since December and the government said on Saturday his condition was "serious". During previous hospital visits it had highlighted his "good spirits".
His health is a cause for concern to the millions of South Africans who revere Mandela for his decades of struggle against white-minority rule and steering the continent's biggest economy to all-race elections.
Hundreds gathered to pray for him at Sunday Mass at the Regina Mundi Catholic church in the sprawling Johannesburg township of Soweto.
"We wish him speedy recovery, he must get well," Soweto resident Mlugisi Sekhosana said. "We know what he did for us in South Africa. All the nation, black and white, we wish him well."
The government had yet to give an update on his condition early on Sunday.
The Sunday Times newspaper took a somber tone, with the headline "It's time to let him go", quoting a longtime friend of Mandela's, Andrew Mlangeni.
"The family must release him so that God may have his own way. They must release him spiritually and put their faith in the hands of God," the newspaper quoted Mlangeni as saying.
"Once the family releases him, the people of South Africa will follow."
Reuters