Salafists, pro-Hezbollah fighters clash in Lebanon's Tripoli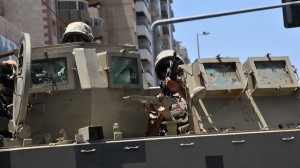 Fierce clashes raged in the heart of Tripoli in northern Lebanon on Thursday, a security official told AFP, in the latest in a string of Syria-related incidents in the small Mediterranean country.
"A major clash in Tripoli's souks broke out between Salafists [who support the revolt in Syria] and fighters loyal to Hezbollah," the source said, adding that two pro-Hezbollah fighters were wounded.
It was the first battle since 2008 in central Tripoli, although frequent Syria-related violence has raged in other districts.
It comes after some three weeks of sectarian fighting in the flashpoint Jabal Mohsen and Bab al-Tabbaneh neighborhoods, during which around 40 people were killed.
The army deployed in force on Tripoli's main streets on Thursday, the official said on condition of anonymity, although the soldiers stayed clear of the strife-torn areas.
An AFP journalist saw artillery and military vehicles deployed at the entrance of Tripoli, which has seen escalating violence since the outbreak in March 2011 of a revolt in Syria against President Bashar al-Assad.
Thursday's battle saw Salafists fight members of the Syrian National Socialist Party, which supports the Assad regime.
It came a day after two gunmen, including a Syrian, were killed in a firefight with Lebanese soldiers near Arsal on the border with Syria, the army said.
On Wednesday night, "a group of armed men driving a pick-up truck assaulted and opened fire on a Lebanese army checkpoint in the Wadi Hmeid area near Arsal," the army said, adding that two attackers were killed.
Also on Thursday, a clash broke out at the same Arsal checkpoint with a second group of armed men, the statement said.
Hours earlier a Syrian army helicopter bombarded areas near Arsal, which is home to a majority Sunni population that supports the revolt against Assad.
The Lebanese army is working to stop the smuggling of weapons and fighters across the border into Syria.
On Wednesday, the strategic Syrian town of Qusayr near the border fell to troops loyal to Assad, including fighters from Lebanon's Hezbollah movement.
Hours after Qusayr's capture, 10 rockets fired from inside Syria hit the Hezbollah bastion of Baalbek in eastern Lebanon, the army said.
President Michel Suleiman on Thursday condemned the violence and called for "a firm and strong response to the sources of fire."
Although Lebanon has officially adopted a position of neutrality in Syria;s raging conflict, it is sharply divided.
The Shiite Hezbollah backs Assad's regime, with fighters on the ground, while the Sunni-led March 14 bloc supports the revolt.
Al Arabiya