Turkish Markets Tumble as PM Erdogan digs in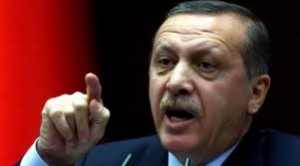 Markets were rattled in Turkey on Thursday after Prime Minister Recep Tayyip Erdogan refused to back down over the redevelopment of an Istanbul park in the face of protests against the controversial building plan that have raged for almost a week.

The country's main stock index, the BIST 100, fell more than 7 per cent before recovering to close 4.7 per cent down, while the lira weakened against both the dollar and the euro. The dollar climbed 0.1 per cent to Tl1.8925 while the euro gained 0.5 per cent to Tl2.4862.
The market fall in the wake of Mr Erdogan's remarks took Turkey's stock exchange to 20 per cent below its recent high, meeting the definition of a bear market.
Speaking to reporters in Tunisia towards the end of a tour of north Africa, Mr Erdogan said the government would press ahead with plans to build a reconstruction of an Ottoman barracks in Gezi Park in Istanbul. "Our party has implemented great projects," he said. "These protests are seeking to prevent similar projects from being carried out."
The prime minister added: "You can't demand rights through illegal methods. If you say: 'I can protest where I want, I can burn things, I can damage things,' we will not allow that."
He also linked the protests to a suicide bombing attack on the US embassy in Ankara in January, which claimed the life of a security guard: "As you know people have attacked the US embassy – these are the same people who damaged Taksim."
Asked about an apology over the use of excessive force against protesters, including tear gas, made by his deputy Bulent Arinc earlier this week, Mr Erdogan said the government had already sufficiently explained its position and expressed its sadness over events. He added that there was no country – including in Europe – that did not use tear gas.
Mr Erdogan is due to return to Turkey late on Thursday night. The continuing protests, which Mr Erdogan has called "undemocratic", have focused on his allegedly heavy-handed rule and represent one of the biggest challenges of his time in office.
While some commentators had suggested that the ruling Justice and Development party would seek to turn the prime minister's return into a show of popular support, Huseyin Celik, a leading party official, urged supporters not to greet Mr Erdogan at the airport – an apparent attempt to prevent tensions from building further.
Overnight, Istanbul was calm with a large but peaceful rally in Taksin Square, although clashes were reported in the capital, Ankara, and Mr Erdogan's home town of Rize.
Many protesters have been highlighting the detention of people in the city of Izmir for posting messages on Twitter and other social media. According to reports in the Turkish media, almost all of those detained over social media posts were released on Thursday.
On Thursday academics in Istanbul were preparing to march in support of the protests and a concert has also been planned.
On Wednesday the Turkish writer and Nobel prizewinner Orhan Pamuk voiced his support for the demonstrators as he accused the Erdogan government of being "oppressive and authoritarian".
Financial Times