Sons of 2 Hezbollah officials wounded in Syria battle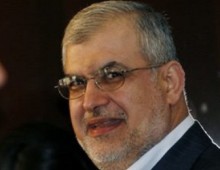 The sons of two Hezbollah key officials , MP Mohammed Raad and caretaker Minister of State for Administrative Reform Mohammed Fneish were wounded during the battles in the Syrian town of al-Qusayer, Kuwaiti al-Seyassah newspaper reported on Thursday.
According to the report, Fneish's son sustained "serious injuries" in his face and is undergoing a surgery in one of Beirut's hospitals.
Syria's rebels conceded on Wednesday they had lost the battle for the strategic town of Qusayr but vowed to fight "thousands of Lebanese mercenaries ( Hezbollah fighters ) " after the army seized total control of it and the surrounding region.
The military chief of the main umbrella group of Syrian rebels said his men are ready to fight Hezbollah militants inside Lebanon. Gen Selim Idriss of the Free Syrian Army told the BBC that Hezbollah fighters were "invading" Syria and Lebanon was doing nothing to stop them.