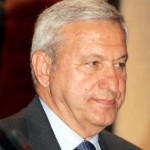 A Jordanian court sentenced a fugitive uncle of King Abdullah II on Wednesday to 371/2 years in jail with hard labour and a massive fine on two charges of abuse of office, a judicial official said.
The court also ordered Walid Kurdi, who was tried in absentia, to pay a fine of 284.4 million dinars (S$503 million), the official told Agence France-Presse.
Kurdi is married to Princess Basma, sister of King Abdullah's father, the late King Hussein.
He is the former chief executive of the Jordan Phosphate Mines Co (JPMC), one of the world's largest suppliers.
Assets frozen
The Anti-Corruption Commission's (ACC) prosecutors on Saturday froze Kurdi's assets
The decision was taken based on the suspected corruption case related to marketing and shipping deals the company signed with foreign firms, estimated at $40 million, the Jordan News Agency, Petra, reported.
Investigation showed that after the 2006 privatisation deal of the JPMC, the company signed maritime shipping contracts with a foreign company, whose owners remain anonymous, at higher rates than those prevalent in the market, according to Petra.
Investigation also showed that the JPMC ignored signing the said contracts with the Jordan International Chartering Company (JICC), of which the JPMC owns more than 30 per cent.
The probe showed that the Aqaba Development and Marine Services (ADMS) company with which the JPMC signed a deal to ship 250,000 tonnes of phosphate to Turkey in 2010, was found to be owned by Kurdi and his relatives.
The agency also found that the ADMS owned around 70 per cent of the contracts that the JPMC signed with shipowners to transport the phosphate from Aqaba to other countries, according to Petra.
ACC prosecutors general Abdul Ilah Assaf and Assem Tarawneh issued the order in line with the Economic Crimes Law and the Penal Code.
AFP/Jordan Times