Turkey's government apologized to protesters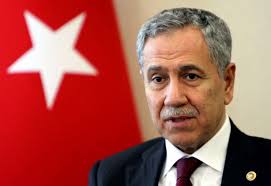 Turkey's government apologized on Tuesday to protesters hurt in clashes with police during days of demonstrations and called for an immediate end to the protests.
Deputy Prime Minister Bulent Arinc moved to calm tensions after days of street clashes that have left at least two people dead, saying the government had "learnt its lesson" from the disturbances.
"Responsible citizens will stop today," he told a televised news conference in Ankara after meeting with President Abdullah Gul.
"We expect all unions, political parties and everyone who loves and cares about Turkey to do this today."
He said the protests that erupted in Istanbul last week after police tear-gassed demonstrators angry over plans to demolish a public park were based on "legitimate" complaints.
"What made things get out of hand was the use of gas by security forces, for one reason or another, against people with rightful demands," he said.
"The government has learnt its lessons from what happened," he added.
"We do not have the right and cannot afford to ignore people. Democracies cannot exist without opposition."
He updated the government toll of those injured in the disturbances, saying 64 civilians and 244 police officers were hurt, but doctors and rights groups have put the figure much higher.
Five days of clashes have rocked cities across Turkey with police firing tear gas and water cannons at stone-throwing protesters.
A doctors' association said one protester was killed in Istanbul on Sunday and provincial officials said a second man died in a clash on Monday in Antakya in the south.
Arinc's remarks were a clear bid to calm tensions after Prime Minister Recep Tayyip Erdogan, the main target of the protests, earlier blamed the unrest on "extremists" and "vandals".
Erdogan was out of the country on an official tour of North Africa as the protests rolled into a fifth day on Tuesday, leaving Arinc to speak for the government in his absence.
Protesters accuse Erdogan of trying to impose conservative Islamic reforms on Turkey, such as a pending law to restrict the sale of alcohol.
Arinc insisted: "Turkey's biggest wealth is its differences. Our government respects and is sensitive to different lifestyles," he said.
AFP