A look at the protests sweeping Turkey: Q&A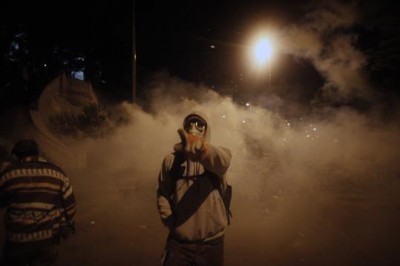 ISTANBUL (AP) — Turkey's Islamic-led government is facing its biggest protests in years. Here is a look at the protests and what may be driving them:
Q: What's going on in Turkey?

A: Demonstrators were camping out in Istanbul's landmark Taksim Square to protest plans to rip out trees and redevelop the area when authorities launched a violent pre-dawn raid Friday to clear them out. Protests against the police's heavy-handed response quickly spread to cities across the country. Monday was the fourth day that riot police used tear gas in Istanbul and Ankara against protesters.
Q: Are the protests just about trees — or something more?

A: Demonstrators are also venting pent-up resentment against Prime Minister Recep Tayyip Erdogan, who has been in office for 10 years. Many secular Turks see him as an authoritarian figure who is trying to exert his conservative religious Islamic views on them. Erdogan rejects those accusations, insisting he respects all Turks and is a ''servant'' of the people.
Q: Who are the protesters?

A: Most of the tens of thousands of protesters on Turkey's streets appear to be urban, secular Turks, frustrated by what they see as Erdogan's close ties to development interests and his alleged attempts to force his religious outlook on them. Erdogan says the protests have been stirred up by Turkey's opposition and extremists who are trying to force their will on the majority who backs him.
Q: What has Erdogan done?

A: Erdogan, who has been in power since 2003 after winning three landslide elections, has been credited with boosting economic growth in Turkey and raising the country's international profile. But he has been a divisive figure at home, with his government cracking down on journalists, passing laws to curb the sale of alcohol and taking a strong stand against the Syrian regime — a stance that some believe has put Turkey's security at risk. Some Turks see him as a meddler in their personal lives, speaking out against Caesarean births, telling women they should have at least three children and even advising how TV characters should behave.
Q: Why are protesters angry at police?

A: Social media has been awash with reports and videos of police abuse during the protests. Authorities have said police excesses would be investigated, but they appeared to continue unabated. Turkey's Human Rights Foundation says more than 1,000 protesters were subjected ''to ill-treatment and torture'' by police.
Q: What does the president of Turkey think?

A: President Abdullah Gul has taken a more conciliatory line, celebrating peaceful protests as a democratic right. ''Democracy does not mean elections alone,'' he said Monday.
Q: What's next? Is Turkey the next country to fall to an Arab Spring revolution?

A: Turkey will be holding a presidential election next year in which Erdogan — who will hit his term limit as prime minister — could run against Gul. Despite images that resemble the Arab Spring protests that brought down leaders across the region, Erdogan is unlikely to fall. Turkey has a stable democracy and his backing by the silent majority still appears to be strong. ''We already have a spring in Turkey,'' he said Monday, alluding to the nation's free elections.
Boston.com
photo: A protester wearing a gas mask points to other protesters during clashes with riot police near Taksim Square in Istanbul, Monday, June 3, 2013.