Backing Syria's Assad is a huge risk for Hezbollah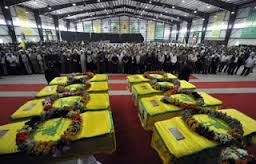 Space is running low in the hall in south Beirut where Hezbollah buries its war dead, a testament to the heavy price the Lebanese Shiite militant movement is paying as it pins its fate ever closer to Syrian President Bashar al-Assad in a high-stakes game that it cannot afford to lose.
Hezbollah militants are being deployed outside Lebanese borders for the first time in what its leader, Hasan Nasrallah, has called a "new phase" for the movement. With this decision, Hezbollah's focus has pivoted from fighting Israel to fighting fellow Muslims in Syria.
The group's loyal followers appear enthusiastic about the new battle, with supporters talking of waiting lists to sign up to fight alongside Assad's forces. But analysts question how long the movement's near-monopoly on support among Lebanon's Shiites will last as it pitches ever deeper into a long and logistically draining war — and draws in fragile Lebanon with it.
The decision by Hezbollah, a long-standing ally of Shiite Iran and Syria, to send thousands of men to Syria is a risky bid to ensure the survival of its axis of support. Geographically, Syria has long been a conduit for ­Iranian-
supplied arms to Hezbollah. Politically, Hezbollah's alliance with Syria has helped protect the movement from charges that it is merely an Iranian proxy.
But the new mission, which pits Hezbollah against a largely Sunni Syrian opposition, has a sectarian flavor and is quickly deepening divides in Lebanon.
Since Nasrallah dramatically pledged Hezbollah's all-out support for Assad in a May 25 speech, there have been near-daily signs of the Syrian war spilling over into Lebanon. On Monday, a Sunni cleric who has spoken out in support of Hezbollah said he narrowly escaped assassination when gunmen opened fire on him in the southern city of Sidon. A day earlier, Hezbollah militants and rebels battled near Baalbek in the Bekaa Valley, the first serious clashes on Lebanese soil since the conflict in Syria erupted more than two years ago.
For the moment, Hezbollah's popularity among its supporters appears unwavering. At the Rawdat al-Shahidayn cemetery in Beirut's southern suburbs, the dead from Syria are buried under the floor of a brightly lighted room next to those who have died fighting Israel. In one corner, floor tiles had been removed and a shovel rested on the side of a freshly dug pit that awaited the body of the next fighter to be laid to rest.
Ali Fadl sat on a plastic chair at his brother's graveside as his widowed sister-in-law, wrapped in black, rocked back and forth in prayer. "This is not painful. Everybody hopes for martyrdom," he said. "Whatever Hasan Nasrallah says, we do. We do not question."
'It's a huge risk'
Hezbollah was formed in 1982 with the stated aim of waging "resistance" against the Israeli occupation of southern Lebanon. Even after Israel completed its withdrawal in 2000, the group has continued its campaign against Israel.
Hezbollah has grown into a formidable political movement with a well-armed paramilitary force known for its prowess in guerrilla warfare and generally thought to be stronger than Lebanon's army. But the foray into Syria is uncharted territory for a group used to fighting on the defensive.
"Hezbollah's survival depends on them not backing the wrong horse, and they've tied their fate to Assad," said Nadim Shehadi, an analyst at the London-based Royal Institute of International Affairs. "It's a huge risk."
The Shiite movement's rhetoric of fighting the Zionist enemy has expanded to lambasting "takfiris," extremist Sunni Muslims who Nasrallah says constitute the Syrian opposition and are backed by Israel and the United States.
But some observers say Nasrallah's argument that Hezbollah is fighting its longtime enemy Israel by sending men to Syria is a tenuous one.
"He's underestimating the tolerance of his constituency," Shehadi said. "The narrative is very difficult to swallow."
Challenges on the ground
In the Beirut neighborhood of Nabaa on Thursday, Mohammad Hajj Hasan, a rare Shiite politician who speaks out against Hezbollah, gathered other "independent Shiites" and representatives of rival parties. Under armed guard, they discussed how to put up a valid opposition and prevent the country's Shiites from becoming politically and socially isolated in the backlash against Hezbollah's engagement in the Syrian conflict.
But they were realistic about what can be achieved. Charbel Eid, a representative of the largely ­Christian Lebanese Forces party, said that Hezbollah's support from Christian and Druze allies, with which it forms the most powerful bloc in Lebanese politics, may slip away but that its impassioned support base will be less easily moved.
"It will take months before there is a real change in the opinion of the Shiite community," he said.
The mission in Syria is likely to be lengthy. Rebels and a senior Hezbollah commander said over the weekend that thousands of fighters are deep inside the country, near the northern city of Aleppo.
"Hezbollah has made the calculation it will be there for a long time . . . maybe a year," said a commander in the movement who spoke on the condition of anonymity because he is not authorized to talk to the news media.
Hezbollah at first played down persistent rumors that its men were deployed in Syria. But as it dug in to secure Shiite villages in the vicinity of the strategic town of Qusair late last year, the coffins that returned home became difficult to hide. The trickle of caskets increased to a steady flow after the battle for Qusair began in earnest two weeks ago.
"Sustaining long deployments deep into Syria will be challenging for Hezbollah, in terms of supply, operations and political image," said Emile Hokayem, a Middle East-based analyst at the International Institute for Strategic Studies.
For Hezbollah's reputation to emerge intact, military gains are paramount, particularly in Qusair. Nasrallah has boldly promised his men a victory. But the Britain-based Syrian Observatory for Human Rights says that at least 79 Hezbollah fighters have been killed there, among 141 in the country as a whole.
"They'll make sure they win it . . . even if it costs them 1,000 men," said Mohammad Obaid, an analyst with close ties to Hezbollah. "If they lose, it will be extremely damaging."
Danger of isolation
The backlash at home is also damaging. Nasrallah argued that fighting in Syria would help ensure the stability of Lebanon, preempting clashes on its soil.
But sectarian tensions in Lebanon have flared since the Hezbollah leader pledged full support for Assad. In an apparent act of retaliation by Syria's rebels or their supporters, two rockets hit a Shiite neighborhood in Beirut's southern suburbs just hours after he spoke last month. The rebel Free Syrian Army has made repeated threats to strike Hezbollah in its strongholds and has fired volleys of rockets at Shiite areas in Lebanon.
In the poverty-stricken northern port city of Tripoli, where Lebanon's fault lines are most stark, sectarian violence has taken on a new tempo, with fighting barely pausing over the past fortnight.
During Hezbollah's 2006 war with Israel, the movement garnered support outside its traditional Shiite following both in Lebanon and the wider Arab world as it battled a common foe. However, that support has ebbed.
Yusuf al-Qaradawi, a prominent Egyptian Sunni cleric, said Friday that he regretted ever having supported Hezbollah, denouncing it as the "party of the devil" and calling on Sunnis from across the region to fight Hezbollah in Syria. The Gulf Cooperation Council on Sunday unanimously declared the movement a terrorist organization and said it would take measures against Hezbollah interests in its six member states.
But for Hezbollah, survival of the Assad regime appears to outweigh the risk of national and regional isolation.
"Syria is the single most important thing to Hezbollah at the moment," Obaid said. "Hezbollah doesn't gamble; it makes calculated decisions. And it can't accept the fall of Assad."
Washington Post