Al Qaeda threatening US with more terror attacks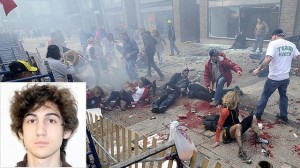 Al Qaeda's most dangerous franchise is threatening the U.S. with renewed attempts at homeland terror attacks, while urging radicalized Americans to launch strikes like the Boston bombings and poison mail cases on their own.
The dual-pronged "Message to the American Nation" comes from a top militant in Yemen's al Qaeda in the Arabian Peninsula (AQAP) and was both warning to the U.S. and call to arms for homegrown jihadis.
The twin explosions near the finish line of the marathon on April 15 killed three people — including an 8-year-old boy — and injured more than 260 others, and was blamed on two young Muslim immigrants from Dagestan. No deaths have resulted from several cases this year involving ricin, a toxin derived from common castor beans, sent through the mail to prominent politicians.
Referencing "the Boston events" and "poisoned letters," AQAP military commander Qassim ar-Reimy claimed in the new video those attacks "indicate that the control of your security has broken away."
Despite the rhetoric, a Yemeni government official dismissed the speech as "nothing new" and told ABC News it was merely six minutes of "bad grammar," referring to the English subtitles in the video.
AQAP is known to have directly attempted to attack the U.S. with three bombs smuggled aboard jetliners since 2009, as well as a fourth thwarted bomb plot in which the would-be suicide attacker was a double-agent who stole the device for western spy agencies.
Before AQAP's Yemeni-American chief of external operations, Anwar al-Awlaki, was killed in late 2011 by a U.S. drone strike, he released many highly influential online video and audio sermons calling for violent jihad against the West. Al-Awlaki had been tied to several terrorist plots targeting the U.S. and was in contact with Maj. Nidal Hasan, the American soldier that opened fire on his colleagues in Fort Hood, Texas in 2009 killing 13.
Al-Awlaki also oversaw the production of Inspire, AQAP's online terrorism how-to publication, which has been found in the possession of many homegrown jihadis and may have helped the Boston bombing suspects get started in learning how to make homemade improvised explosive devices.
J.M. Berger, author of "Jihad Joe: Americans Who Go To War In The Name Of Islam," said Inspire's eleventh issue released last week appeared simultaneously in Arabic and English for the first time, "indicating AQAP is doubling down on the magazine."
"AQAP is putting more resources into Inspire and hoping to reach a broader audience than just English-speaking Westerners," Berger told ABC News.
English-speaking jihadis have also cropped up on tapes made by extremists in Syria and in Somalia, where in late February a previously unheard-of American urged "brothers" in the U.S. to fight in Afghanistan, Northern Mali and Somalia — and at home.
"Abu Ahmed al-Amriki," the new mouthpiece for Al Qaeda affiliate al-Shabaab Mujahideen in Somalia, extolled Muslims to "fight the enemies of Allah where you find them," and predicting that "America is going down."
AQAP, which began in Saudi Arabia, maintains some communications links with Al Qaeda allies in North Africa and operational ties to Shabaab, sources said.
"AQAP leaders will have to weigh the priority they give to U.S. plotting against other internal and regional objectives, as well as the extent to which they have individuals who can manage, train, and deploy operatives for U.S. operations," Director of National Intelligence James Clapper told Congress in March.
ABC