Woman, Baby 3 others killed as tornadoes hit Oklahoma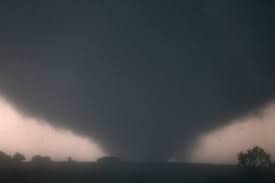 Multiple tornadoes — one of them a mile wide — killed five people and injured more than 70 Friday evening in the Oklahoma City area, just miles from where a monster tornado left 24 dead last week.
Oklahoma Highway Patrol Trooper Betsy Randolph said a woman and a baby were killed when the SUV they were in overturned on Interstate 40 between the western suburbs of El Reno and Yukon. One person was killed in the suburb of Yukon and two others died elsewhere, NBC station KFOR of Oklahoma City reported. KFOR reported that all the victims were in vehicles.
The tornadoes were part of a Midwestern storm system that spun off twisters as far away as North Dakota and Tennessee. The St. Louis airport was closed after it and other parts of Missouri, where Gov. Jay Nixon declared a state of emergency, were also hit.
Brooke Cayot, a spokeswoman for Integris Health, said 71 people were treated for injuries at the hospital system's facilities in the area.
Many of them were hurt in accidents along Interstates 35 and 40 west of Oklahoma City, where at least three semi-trailer rigs were overturned after the biggest tornado touched down near El Reno, authorities said. Authorities said some of the worst damage was from flooding around El Reno and Yukon.
The tornado turned south from Oklahoma City toward the suburb of Moore, which was hit by a devastating twister on May 20 that killed 24 people and injured hundreds of others.
About 64,000 customers were without power in the metro area, 12,000 of them in Moore, electric utilities reported.
Interstates 35 and 40 were closed. "We've got a terrible situation going on," Randolph told told NBC station KFOR of Oklahoma City.
An SUV used by Weather Channel meteorologist Mike Bettes and a crew of storm trackers was thrown 200 yards by the tornado, tumbled about eight times and came to rest in a field near El Reno, Bettes said. Some members of the crew suffered minor injuries, and the vehicle was destroyed.
"That was the scariest moment of my life," Bettes said. "I saw my life flash before my eyes."
A tornado emergency was in effect for several hours for the metropolitan area and south, signifying conditions that could lead to widespread damage and a high likelihood of casualties. All warnings in the region expired by 10 p.m. ET, but not before several damaging twisters hit the area.
"This has been a very large storm that hit a lot of communities," Gov. Mary Fallin, who declared a state of emergency, told KFOR. She said she had heard from at least 30 fellow governors offering assistance.
At Will Rogers World Airport in Oklahoma City, where winds hit 71 mph, all flights were canceled and about 1,000 travelers were herded underground, where they were told to put their hands on their heads.
Tornado warnings — meaning a funnel cloud that could become a tornado had been spotted in the area — were in effect much of the day for numerous counties in Oklahoma, Missouri, Illinois and Wisconsin. Forecasters sounded the alarm that much of the Midwest — already pummeled by a week of tornadoes and flooded with drenching rains — was facing another round of violent weather overnight and into the weekend.
Observers at Tinker Air Force Base reported a tornado on the ground near the base southwest of Oklahoma City. In Norman, home to the University of Oklahoma, a tornado touched down near Norman North High School and Norman Regional Hospital.
Lambert-St. Louis International Airport told NBC News that its airfield was closed until at least 11:30 p.m. (12:30 a.m. ET Saturday) because of damage to buildings and debris on the runway from tornadoes that hit the area.
Another tornado touched down Friday night 7 miles northeast of Moscow Mills, Mo., about 50 miles northwest of St. Louis. In St. Charles County, 24 houses were severely damaged or destroyed, said Mike O'Connell, communications director for the Missouri Department of Public Safety.
The National Weather Service even evacuated its St. Louis office as tornado warnings were issued for north and northeastern St. Louis and surrounding counties.
Severe thunderstorm warnings, meanwhile, stretched from Minnesota and Michigan south to Arkansas. Forecasters said storms overnight could bring several more intense tornadoes, hail up to 4 inches in diameter and wind gusts approaching 80 mph.
NBC News