Suleiman signs parliament extension into law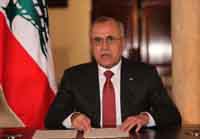 President Michel Suleiman signed the parliament's mandate extension decree into law, despite the fact that he was opposed to along term extension.
Earlier today Caretaker Prime Minister Najib Mikati signed the decree that extends the mandate of parliament and referred it to the general secretariat of the cabinet which in turn referred it to the President .
The Lebanese parliament voted on Friday to extend its own mandate for 17 months after the rival political parties failed to reach an agreement over a new electoral law and because of the security situation as a result of the civil war in Syria.